Rousseff's approval ratings languish: two thirds consider her government "bad or terrible"
Thursday, October 1st 2015 - 08:58 UTC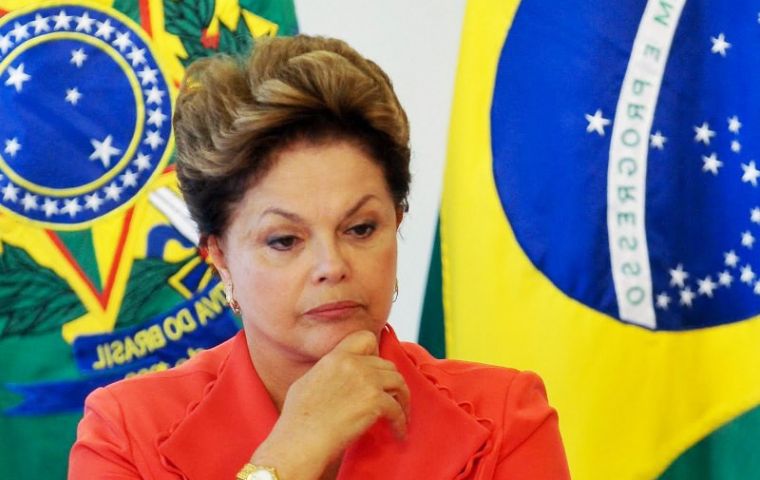 Brazilian President Dilma Rousseff's approval ratings languished in September, held down by the country's economic and political crises, as her opposition in Congress considers opening impeachment proceedings.
Only 10% of respondents in a survey by the Ibope polling agency released on Wednesday said her government was "excellent" or "good," up slightly from 9% in a July poll, a difference within the survey's two-percentage-point margin of error. Of the 2002 people interviewed, more than two-thirds said her government was "bad" or "terrible."
Ms. Rousseff's popularity has plummeted this year as the country's economy has struggled and a corruption scandal at state-controlled oil company Petrobras has grown. Ms. Rousseff hasn't been implicated in the scandal, but scores of prominent politicians, including those from her party and allied parties, are under investigation.
"The combination of the two crises has been terrible" for her approval ratings, said Renato da Fonseca, executive director of research at Brazil's National Confederation of Industry, which sponsored the Ibope poll. "People's (economic) situation is still the same as in the previous poll."
Ms. Rousseff's low approval ratings have sapped her influence in Congress, which has refused to pass many of her government's proposals to cut the budget deficit. Tax increases and spending cuts have languished in the bicameral legislature, which has preferred to pass bills that would instead expand the deficit.
Ms. Rousseff has vetoed dozens of those spending proposals and last week achieved a small victory when Congress failed to overturn most of those vetoes. Her relationship with legislators is nevertheless bad enough that many are still calling for the president to be impeached over alleged budget maneuvers in her first term in office. Ms. Rousseff denies any irregularities occurred.
Approval of Ms. Rousseff's administration among people who voted for her fell slightly, but within the margin of error, to 17% from 19% in the previous poll, Ibope said. The latest reading is down from 63% in December 2014.
Ms. Rousseff won re-election in October last year with the smallest margin in Brazil's post-dictatorship democracy. Since the election, the corruption investigation at Petrobras, has spread.
Heads of several of Brazil's biggest construction companies have been arrested, charged and sentenced to jail terms for inflating the price of contracts with Petrobras, and using the money to bribe political officials, most of them from Rousseff's coalition.