Argentina's incumbent presidential candidate Scioli could just make it in the first round
Saturday, October 3rd 2015 - 11:01 UTC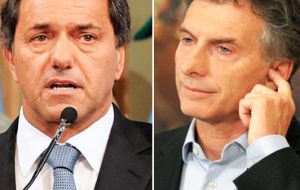 Ruling party candidate Daniel Scioli could win Argentina's presidential election in the first round, after an opinion poll published on Friday showed he had widened his lead over his closest rival. Scioli, the anointed candidate of President Cristina Fernandez, would win 41.3% of voters' support, including his share of projected undecided votes, the survey by Ricardo Rouvier & Associates showed. Second-placed mayor of Buenos Aires City, Mauricio Macri would secure 30.5%.
In Argentina a candidate needs 45% of ballots to win outright in the first round or 40% with a 10 point margin over the nearest opponent to win outright on Oct. 25, otherwise the vote goes to a runoff on 22 November.
The survey taken between 25 September and October first, carries a margin of error of +/- 2.8 percentage points, meaning it is still unclear whether a second round would be necessary, but it shows Scioli extending his lead over conservative Macri which could be crucial in three weeks time.
A poll by the same consultancy on Sept. 17 had shown Macri just within the 10 point margin, with Scioli little changed drawing 41.2% and Macri 31.3% of support. The margin has now grown.
Third-placed Sergio Massa, a dissident Peronist who defected from Fernandez's party in 2013, would secure 20.6% of votes, the pollster said, improving on his 19.9% less than three weeks ago.
"Massa's vote has grown a little, mainly picking up the votes lost by Macri," Ricardo Rouvier & Associates said.
Massa said on Monday he could still force his way into a runoff and has launched attacks against Macri, whom he brands a neo-liberal bent on returning Argentine to the free-market policies of the 1990s that preceded a devastating economic 2000/2002 meltdown.
The battle between Massa and Macri is helping Scioli edge towards a first round victory, analysts say. Massa and Macri will go head-to-head in the country's first presidential debate on Sunday with three other candidates. Scioli is not taking part.
In the primaries of last 9 August, Scioli garnered 36.68% of the vote, followed by Macri's (Let's change coalition), 31.22% and Massa's 21.61%.