Falklands' veteran Simon Weston launches book on "My Life; My Story"
Monday, October 5th 2015 - 19:23 UTC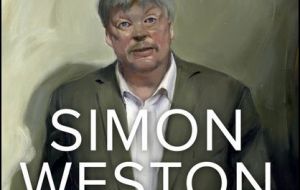 A Falklands' war veteran who survived the bombing of his ship when most of those on board were killed takes to the stage to tell the story of his life. In "My Life; My Story", which comes to East Grinstead's Chequer Mead on Friday, October 16, Simon Weston OBE, will share truths about the conflict, the day the RFA Sir Galahad was attacked and the impact the event and its consequences have had since.
On April 2, 1982, Argentina invaded the Falklands Islands, with the aim of recapturing them through a claim that it had inherited the Islands from Spain in the 19th century.
The Islands, which had been controlled by Great Britain for nearly 150 years, became a battleground.
In one of the most horrific moments of the conflict, the RFA Sir Galahad was bombed, killing 48 servicemen and leaving few survivors, including Simon.
He said: "If I was just to tell Falklands' story, it would be very dark, very sad, very soon. I don't just want to tell the sad, mad and bad.
"The reality of life is when everything around you is going to hell and back, people need to say funny things. The situation becomes easier to deal with".