"Hands off, Tories will never sell out the Falklands":Hammond's message to Cristina Fernandez
Monday, October 5th 2015 - 07:35 UTC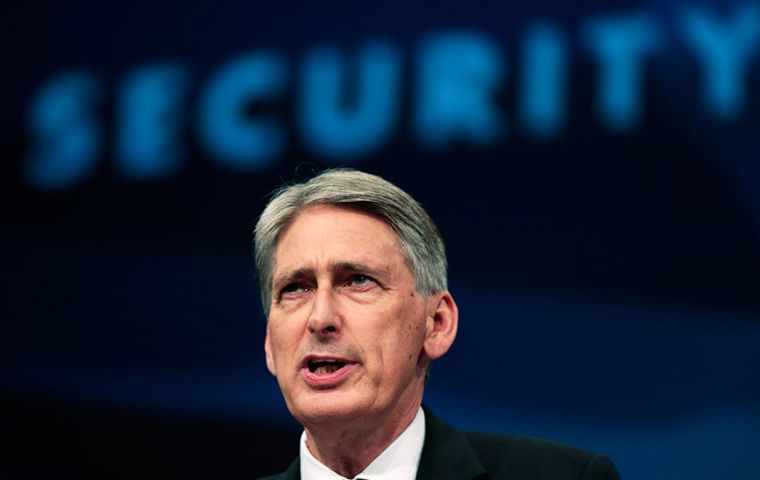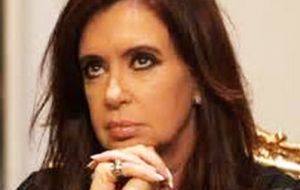 UK Foreign Secretary Philip Hammond has issued a firm hands-off warning to Argentina by insisting the government will "never sell out" the Falkland Islands. The Foreign Secretary insisted the "bullying and harassment" against the Islanders must stop, adding it is counter-productive and "shameful".
He also warned Spain against the "unlawful and inexcusable" violations of Gibraltar's territorial waters as he claimed Labour in government under Jeremy Corbyn would risk the sovereignty of Britain's overseas territories.
Speaking in Manchester at the Tory conference, Hammond said the right to self-determination is being challenged not only in Eastern Europe and the Middle East, but also near Gibraltar and in the South Atlantic.
He told delegates: "Let me say clearly to our Spanish friends - we agree on many things and we want to work with you in the many areas where our interests coincide.
"But violations of Gibraltar's territorial waters by Spanish state vessels are unlawful and inexcusable. The people of Gibraltar have an inviolable right to remain British.
"We will maintain that right, for as long as they wish us to."
He added: "While I'm speaking Spanish, let me clarify something for president Cristina Fernandez Kirchner of Argentina - whatever the Labour leader says, this Conservative government will never sell out the Falkland Islanders."
Foreign Secretary Hammond recalled how the Falkland Islanders voted unanimously (99.8% on a turnout of more than 90%) to remain British in a recent referendum.
He joked: "A free and fair election with a majority that would make (Russian president Vladimir) Putin envious".
"The bullying and harassment to which the Islanders continue to be subjected is shameful - it's counter-productive, it's wrong and it must stop. The Falkland Islanders have every right to develop their economy."
Ashley Fox, leader of the Conservative MEPs in the European Parliament, who also represents the South West of England and Gibraltar, told delegates: "Let us send out a clear and resolute message today to the people of Gibraltar - as long as you want to be British, no matter what intimidation, bullying and threats you may face, we will stand by you, we will defend you; the Conservatives will never betray you."