"Malvinas Hall" in Comodoro Rivadavia recalls Air Force strikes command against UK Task Force
Tuesday, October 6th 2015 - 08:39 UTC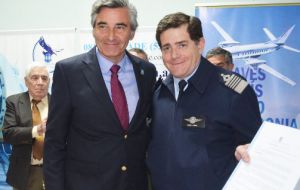 The room in Comodoro Rivadavia from where the Argentine Air Force command operated its attacks on the Falkland Islands during the 1982 conflict has been renamed 'Malvinas Hall', and has been declared part of the city's heritage, a place where students and visitors can recall "the ever present Argentine claim over the Malvinas Islands, and the heroism of its pilots".
The ceremony in late September was attended by representatives from Comodoro Rivadavia's local government, members of the Argentine Air Force and other services, plus special guests. The event took place at the current LADE, Lineas Aereas del Estado (State airline) offices, which 33 years ago lodged the Southern Theatre Operations Command, from where the air strikes on the Falklands and the British Task Force were ordered.
"Malvinas means every day, not only on second April (day of the Falklands' invasion), and this space, Malvinas Hall, will allow us to have ever present the Malvinas Argentinas cause", said Ruben Palomeque, Comodoro Rivadavia city hall head of public services.
One of the special guests was retired Brigadier General Ernesto Horacio Crespo, who at the time was the Air Force South head command, who was awarded a distinction to commemorate events of 1982.
Commodore Walter Amaral, head of LADE recalled that during the "Malvinas feat, the Air Force took possession of these offices, to mount the South Theatre of Operations, that is the command from where the combat missions to Malvinas were planned and ordered".
The fact that LADE has reopened this office as Malvinas Hall and the permanent exhibition is the result of "LADE's commitment to the Malvinas historic deed and the city of Comodoro Rivadavia. Together with the municipality we are going to have guided tours for school children at different levels and later offer the same opportunity to the community and visitors in general", said Commodore Amaral.
The Malvinas Hall was restored to its original paint and furniture. On the walls navigation charts and pictures of the targets attacked by Argentine pilots are displayed with the purpose of rebuilding details of the war in images and photos, added Commodore Amaral.
In a contiguous room there will be an exhibition of relations between the Malvinas Islands and Patagonia, particularly the period from 1971 to 1982 when LADE flew regularly to the Falklands from Comodoro Rivadavia. The city's Tourism Office will also include the Malvinas Hall as part of the tourism city tour and the Culture Secretariat in the cultural agenda.