Ushuaia expects this cruise season 336 vessel calls and over 100.000 visitors
Tuesday, October 6th 2015 - 08:20 UTC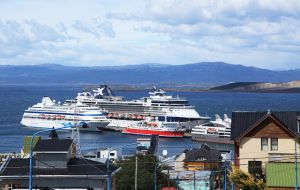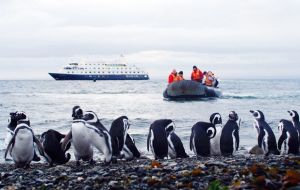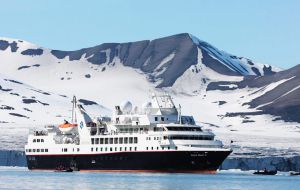 Tierra del Fuego Tourism Institute (Infuetur), in extreme south Argentina, is expecting 25% more cruise visitors this 2015/16 season, most probably breaking the 100.000 milestone, with 336 calls involving 47 cruise vessels. The estimate is 112.170 passengers by April 2016, of which 79.486 non Antarctic and 36.684 Antarctic visitors.
Chile's "Via Australis" inaugurated the Ushuaia cruise season, but prospects are that starting December, through January and February will see the height of the season with the large cruise vessels.
As to the previous season, 2014/15, the number of cruise visitors in Ushuaia was actually down 9%, from 98.770 to 90.276, according to a release from Hosteltur. Most visitors were from the US, even when their number was down 1.1% to 31.139. United Kingdom followed with 9.548 pax, down 4.7%, and Germany provided 6.675 visitors despite a drop of 26.9%. Argentine cruise visitors only represented 2.3%, equivalent to 2.091 and a fall of 22.1%.
The number of passengers travelling to Antarctica last season totaled 35.509, which is 4% less than the 37.035 of the previous 2013/14 season. Those choosing pendulum cruises, with calls in Argentina and Chile added to 42.488 and the Fuego Channels, 12.790. In other words the "Antarctica tourists represent for Ushuaia the highest number of trips per season, while the pendulum trips the largest number of passengers".
Reference Antarctic cruises, Matias Sket, Infuetur policy secretary underlined the significance of the Antarctic cruises since their complexity requires visitors to spend one or two nights in Ushuaia, before taking off, which is very encouraging for Tierra del Fuego capital.
The Infuetur report also points out that during the 2014/15 season, 164 trips involving 25.589 passengers visited Antarctica and South Atlantic Islands with Ushuaia as the operations port, (which means round trips), while 9.920 were in 'transit' with ten calls.
Finally January was the month with the largest number of Antarctica cruise passengers, followed by December and February. Occupation averaged 89% and the number of nights on board sixteen.