Brazil's top electoral court will investigate Rousseff's reelection campaign for alleged 'irregularities'
Wednesday, October 7th 2015 - 10:28 UTC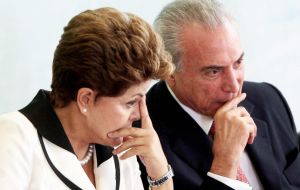 Brazil's top electoral authority ruled on Tuesday there are grounds to investigate irregularities in President Dilma Rousseff's re-election campaign last year. The TSE electoral court voted 5-2 on the decision. It is seeking to determine whether Rousseff and Vice President Michel Temer abused their power while in office to run the campaign, and whether illegal money was used as funding.
The TSE investigation could lead to the invalidation of Rousseff's slim victory at the polls a year ago, though the judicial case is expected to last for months if not years and can be appealed to the Supreme Court.
The decision will add fuel to opposition attempts to impeach Rousseff in Congress. The president's popularity has sunk to single digits due to the Petrobras corruption scandal and a severe economic recession, and former coalition allies have joined opposition calls for her impeachment.
TSE officials said the court will investigate Rousseff's election campaign to see if it was funded by illegal money, including donations originating from the massive kickback scandal that has engulfed state-run oil company Petrobras.
The TSE investigation was requested by the main opposition party, the PSDB, whose leader Aecio Neves narrowly lost to Rousseff last October.
If the court were to uncover illegal funds in her campaign or other irregularities, it could invalidate Rousseff's election and that of her running-mate, leading to new elections that would favor Neves.