Osborne emerges as potential successor of Cameron as head of Conservatives
Thursday, October 8th 2015 - 09:02 UTC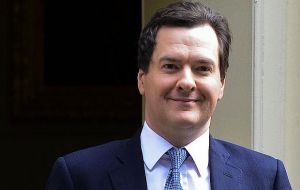 British finance minister George Osborne has emerged as a potential successor to David Cameron as head of the Conservatives amid buzz at the party's annual conference over who the favorite might be.
Cameron ignited a behind-the-scenes succession race when he announced earlier this year that he would step down by 2020, before Britain's next general election is due.
Osborne, the prime minister's closest ally, is seen as his chosen successor and received an enthusiastic reception at the Conservative conference, with his speech being followed by two standing ovations.
Of aristocratic descent and with a large personal fortune, Osborne has vowed to fight for the workers of Britain.
"We are now the party of work, the only true party of labor," he told the conference this week.
Osborne, 44, who has been Chancellor of the Exchequer since 2010, has made inroads into the traditional territory of the opposition Labour party with recent policy announcements, perhaps with an eye to broadening his appeal.
These include an increase of the minimum wage to £9 by 2020 for those aged over 25 from £6.50 currently and an infrastructure planning commission headed by a Labour peer.
Osborne has also spearheaded a "Northern Powerhouse" plan to boost the economies of the northern cities of England, traditional Labor strongholds that have lagged behind London.
Another bid to burnish his prime ministerial image was a five-day visit to China with a full entourage, and a personal interview with the Mail on Sunday in which he spoke about his family, his weight struggles and liking for rap music.
Polls indicate Osborne has not always been popular among the general public, and his reputation as the champion of Britain's austerity program saw him booed by a stadium of spectators at the 2012 Paralympic Games.
Bookmakers consider Osborne to be the most likely next Conservative leader, followed by London mayor Boris Johnson, who has cultivated a rumpled and witty persona and was once seen as the likeliest successor.
Osborne will also have to contend with the ambitions of the business secretary Sajid Javid and the home secretary Theresa May. Though Johnson is seen as his closest rival, he will have to work to improve his image within the party.
"The evidence suggest that Boris Johnson is more popular with the public but that George Osborne is more popular with the Conservative Party membership and it's ultimately the membership who decides who the next leader is," said Duncan O'Leary, research director at Demos.
"He is a very, very competent person but he's seen too much as a joke, a character and not statesman-like enough," said recent law graduate Oliver Carroll.
Commentators have pointed to a referendum on Britain's membership of the European Union as potentially decisive on the direction of the party. Osborne is to campaign for Britain to remain in the 28-member bloc. Johnson has not yet made clear how he will campaign, but is seen as more euro skeptic.