With Brazil contracting 3%, Latin America's economy will shrink 0.3%, says IMF report
Thursday, October 8th 2015 - 10:21 UTC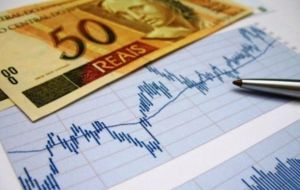 The International Monetary Fund said today that it now expects Latin America's economy to shrink 0.3% this year instead of growing 0.5%, largely due to a steep recession in Brazil and slumping commodity prices. It would be the first recession for the Latin American and Caribbean region since 2009.
But the IMF, which is holding its annual meeting in Peru this week, said in its World Economic Outlook release that the region's economy should recover in 2016 to expand by 0.8%.
The IMF had put 2016 growth at 1.7% in its last forecast in July, before regional giant Brazil's economy took a sharp turn for the worse with a slump in output, a ballooning corruption scandal and painful credit rating downgrade.
The IMF's growth revisions for Latin America, part of its gloomier take on the global economy, were the sharpest for any region. Its new forecast for Brazil's 2015 recession, minus 3%, was double its previous view.
"The downturn in Brazil was deeper than expected," the IMF said in its World Economic Outlook report. It warned of "significant negative spillovers" in the region.
The IMF also noted slower-than-expected growth in Mexico and ongoing problems in Venezuela, where it sees the economy shrinking 10% this year while inflation is set to soar above 100%.
Regarding Argentina, prospects are far from optimistic as the 170-page document: this year the economy will grow 0.4% but the next president will have to address a 0.7% fall of the GDP in 2016. The estimation for Argentina's inflation this year is 16.8%, the fourth worldwide.