Falklands' bound Argentine 'militant' yacht rescued abandoned by fisheries protection vessel
Friday, October 9th 2015 - 06:42 UTC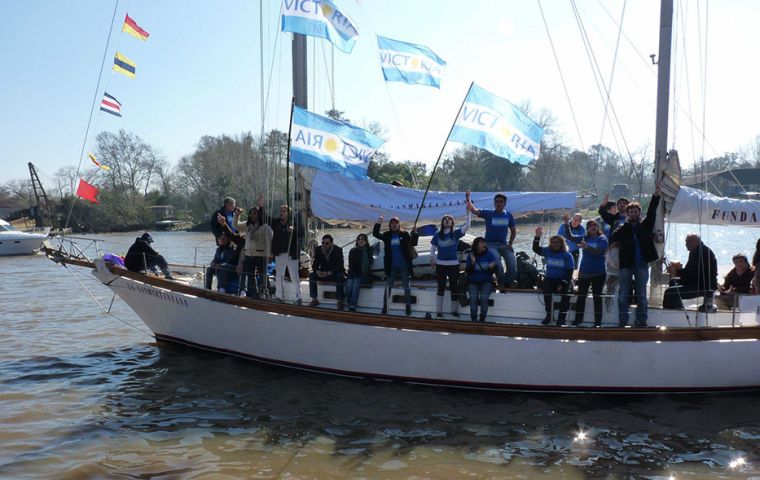 An Argentine flagged yacht "La Sanmartiniana" belonging to a political group which responds to Argentine president Cristina Fernandez son, Maximo Kirchner, was detected abandoned in the high seas by the Falklands Islands Fisheries Protection Vessel, FPV Protegat and is being towed to Port Stanley, reports a release from the Falklands government.
"Late on Wednesday 7th October the FPV Protegat picked up an unidentified radar target in the south of the FOCZ, Falklands Outer Conservation Zone. On closing the target it turned out to be the abandoned Argentine yacht 'La Sanmartiniana'. The yacht was reported as abandoned on 17th September in the vicinity of Isla de Los Estados (Argentina), according to a number of websites. The yacht had reportedly suffered mechanical problems. The 9 crew had been safely transferred to a fishing vessel".
The release adds that the abandoned yacht has been taken in tow by the Protegat and the intention is to take it to Port Stanley. However "it is a considerable distance and will depend on the weather holding. Leaving it to drift would result in it continuing to be a hazard to navigation and maritime activities in the conservation zone".
The Buenos Aires media points out that the La Sanmartiniana target in the south Atlantic was to challenge Falklands' authorities by sailing into the Islands waters, covered in Argentine flags, disobeying Stanley instructions as part of a political stunt, a few weeks away from the presidential election on 25 October.
However the plan was aborted when the yacht belonging to La Campora, Máximo's youth group privileged by Cristina Fernandez over the more orthodox Peronists, suffered an emergency and its nine crew had to be rescued sometime in mid September, in the vicinity of the Isla de los Estados, Tierra del Fuego. Apparently a bail out pump broke down.
According to the Argentine media the "La Sanmartiniana" was purchased in 2013, at a cost of 90.000 dollars with funds from the Interactive Foundation for the Promotion of Water Culture, Fipca, and was sailing in the South Atlantic calling in different ports with the Argentine version of Falklands/Malvinas history. The final destination was the Falklands with the Malvinas Argentinas message in the height of the electoral campaign.
La Campora, led by Maximo Kirchner holds influential posts in the administration of president Cristina Fernandez: several members of Congress in clue committees; Economy minister Axel Kicillof and his team of young 'Turks' and in other ministries, and even nationalized Aerolineas Argentinas CEO Mariano Recalde.