Falklands celebrates on Saturday cultural diversity day
Friday, October 9th 2015 - 07:48 UTC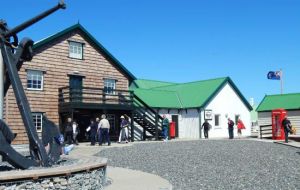 The Falkland Islands cultural diversity will be celebrated with a whole day of events on Saturday, 10 October. The Falklands with a population of 3.000 according to the latest census, has integrated people born in 53 different countries, with predominance from Britain, St Helena and Chile.
The day will begin with an event in the capital Port Stanley, comprising presentations, displays and smoko in the Museum in the morning followed by displays, a huge variety of food, fun events traditional games, a magician, a display by the MPA dog section, a bouncy castle and music in the FIDF hall from 1.30pm.
Entry and food at both events are free but donations will be very welcome. Most of the food will be home-made by supporters, some from Camp, but organizers have also received generous donations from Shorty's Diner, Malvina House Hotel, Tasty Treats, the Narrows, the Waterfront Cafe, FIMCo and the FIC.
At 7pm there will be a chance to enjoy (or learn) the Circassian circle with Lisa Martin, the Chilean Cueca with Claudia and Ricardo, or line dancing from Saint Helena.
The day will finish off with a Family Dance at the FIDF hall from 8pm with music from Falkland, Chilean, Saint Helenian and Filipino groups as well as Mel Lloyd with some country music.
Entry fee is £2 on the door for adults but children are free. Last entry is 10.30pm and it is a BYO. The group's first event was a very successful multicultural music evening in Government House, "but we hope this Saturday will be even more successful," said MLA Barry Elsby.
"Jessica Campos and I have just returned from a two week MLA visit to Uruguay and countries in Central America, promoting the modern Falkland Islands.
"We were well received in all countries, especially Uruguay, and the one fact that stopped people in their tracks was when we told them that our last census showed a population of almost 3,000, but born in 53 different countries.
"This is the history of the Islands, be they Alazias, Betts, Fords, Gualas, Henrys, Jones, Larsens, McLeods, Petterssons, Poncets or Zuvics, they are all Falkland Islanders.
"So, if you have never had a Camp smoko then come to the new Museum between 10am and 12. If you want to learn more about the different cultures in our Islands then come to the FIDF hall to see the displays, films and try smoked Falkland trout, lamb tongue pate, Upland Goose sausages, salt beef from Camp, Chilean empanadas, Saint Helenian plo (pilau) and Filipino chicken and pork specials". (PN).