Gibraltar invited to high level security briefing at Ministry of Defense in London
Saturday, October 10th 2015 - 02:20 UTC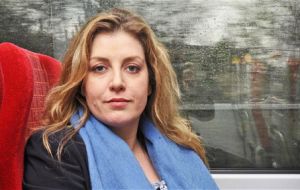 Gibraltar's Chief Minister Fabian Picardo has been invited to attend a high level security briefing at the Ministry of Defense in London next week, part of a drive by the British Government to foster closer links with the Government of Gibraltar.
The move was revealed by Penny Mordaunt, Britain's Armed Forces Minister, who met Mr. Picardo this week at the Conservative Party conference.
"Chief Minister Picardo and I enjoyed an extremely useful meeting, which allowed us to discuss the strategic relationship the UK and Gibraltar shares and our many common goals," Ms Mordaunt said.
"The commitment and reassurance of regular Royal Navy visits to Gibraltar and the security briefing we will undertake when Mr Picardo returns to London demonstrate that we are investing in this partnership."
This is believed to be the first time that a Chief Minister of Gibraltar has been invited to attend a security meeting at this level.
Defense officials said Mr. Picardo's presence at the meeting signaled a desire to engage Gibraltar at a strategic level, offering the Chief Minister a deeper understanding of the UK's broader military thinking and how the Rock fits into the wider context.
They stressed that there was no change to the threat profile in Gibraltar and that this was not about any heightened security risk to the Rock.
Gibraltar has been constantly challenged by neighboring Spain and Spanish navy, scientific and coast guard vessels, which do not recognize the UK Overseas Territory waters.