Scioli needs to convince some non-Peronist voters to reach the 'magic 40%'
Tuesday, October 13th 2015 - 07:53 UTC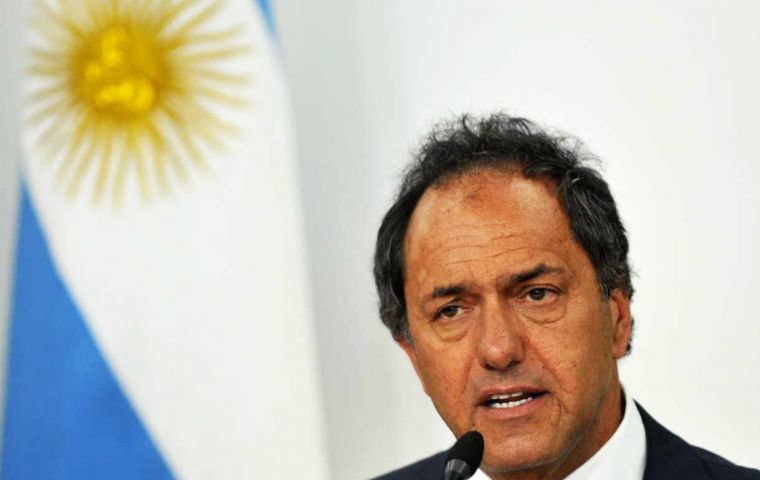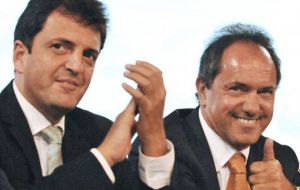 With less than three weeks to Argentina's presidential election, the government's candidate Daniel Scioli has chances of avoiding a runoff but he still needs a couple of points, according to Fabian Perechodnik, head of pollster Poliarquía. In Argentina the winning candidate needs 45% of the votes or 40% but with a ten-point difference over the runner up.
"Scioli needs to convince a portion of those votes which are not clearly identified with the open mind Peronism", said Perechonik, who added that for the first time "there's a scenario in which neither the results of the August PASO primaries or opinion polls, are clearly defining the situation".
"What we are seeing is that Scioli in effect has the chance to avoid the November runoff but he is still short of a couple of points to ensure that situation".
In effect the latest opinion polls show Scioli's main contender, Mauricio Macri tailing with over ten points difference, "but Scioli needs the magic 40%".
However Perechodnik said that in a runoff, opinion polls show Scioli winning the runoff in November, but this is something difficult to assess theoretically, since "it must be analyzed in real context, because for most people it would be a surprise that such a scenario happens".
"Scioli's problem is not with hard Kirchnerism or with Peronism. He is missing that portion of votes which are not clearly identified with open minded Peronism", he added.
Finally "it's not out of the blue to say that third placed candidate Sergio Massa could end up in the November runoff with Scioli", although "it is possible, but not that certain".
The latest polls show incumbent Daniel Scioli with 37/38% of vote intention followed by Macri with 27/28% and Massa 20/21%.