Brazil's Supreme Court gives Rousseff a break in her battle to avoid impeachment
Wednesday, October 14th 2015 - 07:37 UTC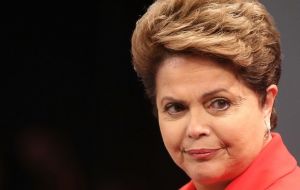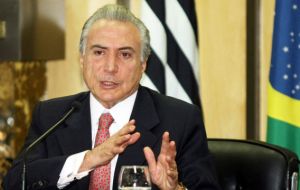 Brazilian President Dilma Rousseff won a temporary reprieve on Tuesday from threatened impeachment thanks to a Supreme Court intervention and her principal opponent's decision to hold off for now on opening proceedings.
Brazil's highest court slowed an expected rush to impeach Rousseff by ruling against lower house speaker Eduardo Cunha -- the man with the power to trigger impeachment -- on procedural questions.
Cunha said the ruling did not affect the basis for impeachment but delayed his final decision, which had been expected Tuesday, on several impeachment requests filed in Congress.
"He will wait until next week before taking a decision," a spokesman for the speaker's office said.
This gave Rousseff -- deeply unpopular less than a year into her second term amid steep recession and a huge corruption scandal -- a breather as she scrambled to secure backers in Congress ahead of an eventual impeachment trial.
As speaker, Cunha has the power to shelve such requests or give them the green light, triggering a bruising battle that risks sending Latin America's biggest country from its current mix of instability and economic paralysis into full-blown crisis.
The Supreme Court caused a temporary hiatus by ruling that a decision on accepting any of the impeachment requests lodged in Congress can only be taken by Cunha himself and not by other opposition figures. This means that Cunha must take full responsibility for triggering the process.
Now the timing of Cunha's next move is seen by analysts as being bound up with his own struggles to escape corruption allegations, including that he hid millions of dollars in Swiss bank accounts.
Although experts disagree about the solidity of the legal case against Rousseff, the impeachment threat is widely seen as posing a mortal threat to the president's political credibility, already weakened by the wider crisis in the country.
Rousseff says moves against her are a "coup plot."
The growing likelihood of an impeachment attempt, following months of hints, spooked Brazil's battered financial markets. The Sao Paulo stock market closed 4% down, while the national currency, the Real, dropped 3.47% against the dollar.
The impeachment request seen as most likely to be given the go-ahead by Cunha alleges that Rousseff, 67, illegally manipulated government accounts ahead of her re-election in 2014.
If Cunha launches proceedings, the impeachment would go to a commission including representatives from all parties before being submitted to a vote in the lower house, requiring two thirds -- 342 of 513 in total -- of deputies to pass.
At that point, Rousseff would have to step aside while the Senate started an impeachment trial, with the vice president, Michel Temer, taking over.
The Senate is dominated at present by government-friendly deputies, and Rousseff spokesman Edinho Silva said that "there is no legal basis" for impeachment.
Rousseff's Workers' Party has been in power for 12 years, and the centre-right opposition smells blood as allegations of corruption and mismanagement pile up.
Last Wednesday, the Federal Accounts Court or TCU ruled that she had performed improper accounting manoeuvres last year by taking unauthorized loans from state banks to cover budget holes.
In a separate blow to Rousseff, the election court decided to open a probe into alleged illegal funding for her re-election campaign.
David Fleischer, a politics professor at the University of Brasilia, said Rousseff's future now hangs by a thread.
"If the impeachment commission is set up, that will be the beginning of the end," he said. "The government is mobilizing for this war against impeachment. But I think that the battle is already more or less lost."