Falklands: Argentina declares Italy's Edison oil activities 'illegal' and 'clandestine'
Wednesday, October 14th 2015 - 06:46 UTC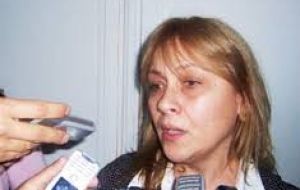 The oil and gas operations being undertaken by Italy's Edison International S.p.A. on "the Argentine continental shelf" near the disputed Falkland Islands are "illegal" and "clandestine," the Argentine Energy Ministry said Tuesday.
The Energy Ministry said in a resolution published in the Official Bulletin that it notified the Treasury, Foreign ministry and federal prosecutors of the decision to ban Edison's operations, which "have not been approved by (Argentine) authorities with jurisdiction" in the matter.
Argentina claims sovereignty over the British Overseas Territory of Falkland Islands, which Latin Americans call the Malvinas.
The move to ban Edison is "part of the strategy the Argentine government has been developing against companies that operate illegally in areas near the Malvinas Islands," the ministry said.
Last week, Argentina declared the oil and gas exploration activities being undertaken by Noble Energy Falklands Limited in an area near the Islands to be "illegal" and "clandestine."
In June, Federal Judge Lilian Herraez, who is based in the city of Rio Grande, ordered the seizure of $156.4 million worth of assets, as well as the impounding of ships and confiscation of other property, belonging to oil companies that operate illegally in Falklands waters.
In August 2013, the Argentine government barred four British oil companies carrying out exploration work in waters near the Falkland Islands from operating in Argentina. The measure targeted Borders & Southern Petroleum, Desire Petroleum, Argos Resources and Falkland Oil and Gas.
In May 2012, Argentina's Energy Secretariat declared the companies' activities in waters near the disputed islands to be "illegal and clandestine."
Buenos Aires demands that Britain comply with a 1965 United Nations resolution describing London's control of the Falklands - which dates from 1833 - as colonialism and calling on the parties to resolve the dispute through dialogue.
London has refused to discuss the question of sovereignty and says the Falklanders should decide their own future and any conversations will have to be three-sided.