Argentine presidential candidates 'at the very limit' but a runoff seems certain
Friday, October 16th 2015 - 07:20 UTC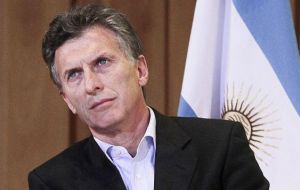 Argentina's 25 October presidential election results remain 'uncertain', and with the current percentages from opinion polls, "at the very limit, there is a runoff in November", according to Mariel Fornoni, head pollster from Management & Fit.
The incumbent and leading candidate, Daniel Scioli "is at the limit of reaching 40%, but he doesn't", while his main rival Mauricio Macri is also "at the limit of 30 points, but without getting there", while the third ranked Sergio Massa remains at 20% of vote intention.
Under Argentine electoral rules, the winning presidential candidate needs a clear 45% of the ballot or 40% plus a ten-point difference over his runner-up, and according to Ms. Fornoni, both candidates are hair short of the needed percentages.
The pollster went further and said that just over a week for Election Day, "there is 30% of people who could change their vote and has doubts about the two leading candidates", Scioli and Macri.
"With today's numbers, we're at the very limit, but I can say there is a runoff".
Ms Fornoni added that the runoff scenarios are also very much disputed and can't be anticipated, because it's like reshuffling and beginning again from zero.
"There's almost a full month ahead of 22 November".
Finally the head of Management & Fit recalled that in Argentina no opinion polls can be made public during the eight days leading to 25 October, and since the latest polls are not conclusive, "there's nobody that can guarantee with full certainty what's going to happen, because all is at the very limit".