Jordan's Prince Ali Bin Hussein submits candidacy for FIFA's presidency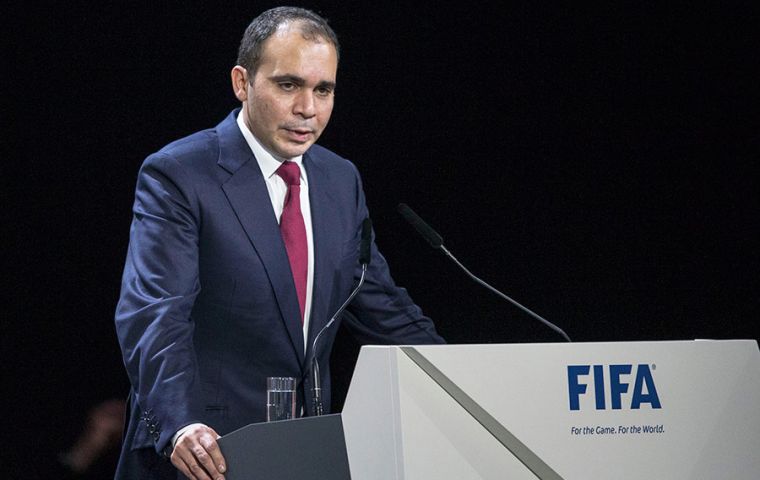 Days before an emergency FIFA ExCo meeting, Prince Ali Bin Al Hussein has submitted his candidacy for the presidency vowing to restore the governing body's battered reputation. In compliance with electoral regulations, the Jordanian has the backing of five national associations, although he didn't name them.
In a letter to FIFA's 209 member federations, Ali explained why he was running again after being defeated by Sepp Blatter in the May election.
"I have never lost sight of the fact that there are so many good and honest people within the global FIFA organization," he said in the letter.
"The crisis at FIFA is a crisis of leadership. I believe in this organization. Together we will make it great again. For all of us these are dark times. Restoring FIFA's credibility will not be an easy task, but together it can be done. For the good of the game and all who love it, I humbly ask for the honor of your support," he added.
With outgoing president Blatter suspended along with the man seen as favorite to succeed him at the Feb 26 election, Michel Platini, Prince Ali is the frontrunner.
However, the Oct. 20 FIFA ExCo will discuss delaying the election and may talk about changing the FIFA Statutes concerning election rules to allow external candidates from outside football to enter the presidential contest, as called for by IOC president Thomas Bach last week.
On Wednesday, Prince Ali issued a statement opposing any postponement.
Blatter and the UEFA president were handed 90-day provisional suspensions pending inquiries into financial mismanagement allegations surrounding a "disloyal" $2.1 million payment signed off by the FIFA chief to Platini in 2011. Swiss authorities and the FIFA Ethics Committee are conducting separate probes. Both deny any wrongdoing and are appealing their bans.
Platini has so far failed to fully explain why it took nine years to invoice for the $2 million payment, which was for work he carried out as an adviser to Blatter from 1998 to 2002.