"Rousseff has broken the law and must step down", says top Brazilian lawyer
Saturday, October 17th 2015 - 06:43 UTC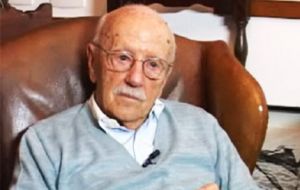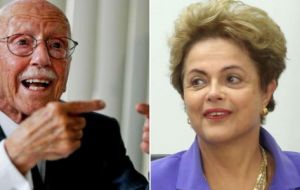 President Dilma Rousseff has broken the law and must step down so that Brazil can recover its legal bearings, the author of a key impeachment petition said. Helio Bicudo, a 93-year-old lawyer who was a high-ranking member of Rousseff's ruling Workers' Party, said in an interview that Brazil must return to "the rule of law."
After breaking with the Populist Party a decade ago, Bicudo is today one of the most visible faces in the growing movement to depose Rousseff.
Several impeachment petitions have been lodged in Congress, but his is thought to be the most likely to be considered.
Bicudo filed a new version on Thursday at a notary's office in Sao Paulo, together with representatives from dozens of political and social groups, including congressman Carlos Sampaio from the opposition PSDB party.
The petition will then be taken next week to Congress in the capital Brasilia. Its main allegation is that Rousseff fiddled government accounts to cover up budget gaps, an allegation that has been given weight by the country's accounts court.
The court referred to accounting maneuvers in 2014 ahead of Rousseff's second term, but opponents say that illegal practices continued, justifying her impeachment.
Bicudo said in the interview that "this is not a government. Rousseff no longer governs. She is taking decisions according to events and a direction-less government is very bad" and "this is the moment to show that the government did illegal things and these illegalities support the impeachment petition".
When asked about former president Lula da Silva's argument that it was the accounting maneuvers that enabled the government to sustain important social programs, Bicudo underlined that "you cannot justify violating the law by saying that it benefits people with poor living conditions. Basically he is confessing to the crime, and crime is crime".
As to the impeachment procedure which under Brazilian law can only be set in motion by the Lower House speaker, in this case Eduardo Cunha who is accused of corruption, Bicudo said that it is necessary "to distinguish between the person and the office of speaker".
Finally when asked what will be the cost to Brazil if Rousseff steps down, the lawyer strongly said 'none' and insisted that to say impeachment is a coup d'etat is a mistake. " The constitution says that it is a crime when the president acts against the law, and Brazil wants to live under the rule of the law"
"This is not a party matter, but a matter for Brazil. This is a matter between Brazilian citizens who want normality in their country", concluded Bicudo.