Malvinas Forum, Uruguay chapter with new coordinator and agenda
Tuesday, October 20th 2015 - 02:24 UTC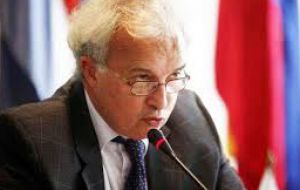 The Malvinas Forum, chapter Uruguay, which supports Argentina's sovereignty claim over the Falkland Islands, held a meeting to commemorate the UN General Assembly resolution of 1965, name new authorities and prepare the agenda of activities for next year.
"The UN has resolution, 2065, from 1965, which means it has been pending for half a century, which calls on Argentina and the UK to hold talks on Malvinas sovereignty, but London refuses. Our task is for the UK to comply with the UN resolution and engage in discussions with Argentina: it's not much but it means a lot", said Luis Rosadilla the outgoing coordinator of the Uruguay chapter of the Malvinas forum.
This is part of the 'long tradition' of Uruguay's support for the Argentine cause, indicated Senator Ruben Martinez Huelmo, who takes over from Rosadilla and also belongs to Uruguay's ruling coalition.
"Those of us who belong to this forum simply say that just look at the Malvinas map and history, and you will see they are not British", said Rosadilla who said the forum is also open to those who believe that the Malvinas are the Falkland Islands. "Nobody has turned up, but you never know".
Rosadilla is a former Tupamaro urban guerrilla who was a member of parliament and defense minister, and who according to his words, was one of many Uruguayan who turned up in 1982 at the Argentine embassy to volunteer and fight the British in the South Atlantic conflict.
The outgoing coordinator said that the forum has had a very positive impact on Uruguayan public opinion since it has collected the different views on the Malvinas issue from Uruguayans both in Montevideo and the interior of the country.
"But we needed to professionalize the forum and create a permanent structure so that was the idea of the chapter Uruguay of the forum", added Rosadilla.
Senator Martinez Huelmo said that the agenda for next year includes greater exposure of the Argentine cause throughout the country with a string of seminars plus informing what is the "Uruguayan doctrine on the case".
The meeting held in Montevideo gathered lawmakers, governors, diplomats, political figures from different parties, academics, as well as representatives from business and commerce. Outstanding was Argentine ambassador in Montevideo, Dante Dovena and Mercosur Representative, Brazilian diplomat Florisvaldo Fier.
"Malvinas claim has become a regional cause", said Fier speaking for Mercosur.
Another member of the forum, Alberto Volonté, a Uruguayan former presidential candidate, and ex-ambassador in Argentina argued that "England usurped the Malvinas from whom have inherited them directly from Spain".
Volonté added that the purpose of the Malvinas forum is "to ensure that the Argentine claim becomes effectively a claim from all the region. If we integrate it's not only to trade, integration begins by acknowledging our common identity".