Bank of England advisor could become Argentina's next ambassador in London
Wednesday, October 21st 2015 - 06:24 UTC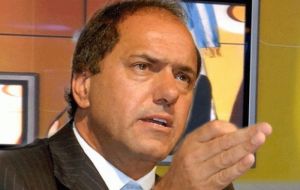 Mario Blejer a world renowned economist and advisor to the Bank of England, was mentioned as the possible next Argentine ambassador in London, if incumbent presidential candidate Daniel Scioli, as public opinion polls indicate, is confirmed in Sunday's election as the man who will take over from Cristina Fernández next December.
Blejer was born in Córdoba and has graduate studies from the Hebrew University of Jerusalem, a PhD from Chicago University, has lectured in some of the top economics schools of the US and has held relevant posts in the IMF and the World Bank.
In London Blejer served as an adviser to the International Economics Program at Chatham House, from 2004 to 2007, and was named Director of the Bank of England's Centre for Central Banking Studies.
He played a leading role in helping Argentina out of the 2001 default and the aftermath of the melting of the Argentine economy, thanks to his knowledge and international contacts.
"Blejer could very well sit in a European embassy. In England. With the agenda of looking to advance the Malvinas Islands question, and with great prestige and weight in the international financial community. He is greatly acknowledged worldwide. With him we can generate investments and give strong confidence signals", said Scioli during an interview with a Buenos Aires channel.
In the event Scioli wins and Blejer is named ambassador, the economist would replace the current head of the embassy in London, Alicia Castro, a former union leader linked to the air industry, very close friend of the late former Venezuela leader Hugo Chavez, and belgonging to one of the more radicals groups when it comes to demanding Argentine sovereignty over the disputes Falklands/Malvinas Islands.