China's Xi in UK to promote business and investments, including nuclear plant
Wednesday, October 21st 2015 - 07:34 UTC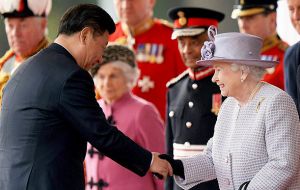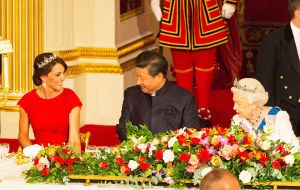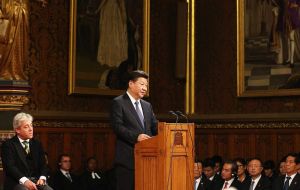 China's leader Xi Jinping is expected to put the seal on its contribution to what will be the first United Kingdom nuclear power plant to be built in a generation. The plant could be opened by 2025 at Hinkley Point, in Somerset, with China likely to cover about 30% of the cost.
More than £30bn worth of deals between the UK and China are expected to be struck during the four-day visit of Xi. London is also planning to offer new two-year, multi-entry visas to Chinese tourists at the same price as the current six-month tourist visa, in an attempt to boost tourism.
Last month, Chancellor George Osborne visited China and secured a deal under which Beijing will invest in Hinkley Point. The plant will be built by French energy firm EDF, in conjunction with a consortium led by Chinese state-owned nuclear company CGN.
Two other nuclear power stations, at Sizewell in Suffolk, and Bradwell in Essex, could follow as part of the deal with China.
But the Hinkley Point project has come under fire over its cost and the delays to investment decisions and the timetable for building. -The original plan was for Hinkley Point to start generating electricity by 2023.
Despite Greenpeace criticisms on bills for consumers the David Cameron government insists that 25,000 jobs will be created and enough energy to power six million homes.
Meanwhile, from January, the government is planning to run a pilot scheme that will allow Chinese tourists to get a two-year tourist visa for £85 - these currently cost £324.
The prime minister's spokeswoman said the move was designed to boost the number of Chinese tourists coming to Britain, which has more than doubled over five years and is worth nearly £500m per year to the economy.
Addressing peers and MPs in Westminster, the Chinese leader said that, although his visit had just started, he was "deeply impressed by the vitality of China-UK relations".
He and his wife, Peng Liyuan were welcomed by the Queen, the Duke of Edinburgh and Prime Minister David Cameron during a ceremony in Horse Guards Parade before attending a state banquet at Buckingham Palace along with the Duke and Duchess of Cambridge.
The Treasury hopes that within 10 years China will be Britain's second biggest trading partner. But the visit comes amid job losses in the UK steel sector, with cheap Chinese imports among the factors being blamed.
The president will also visit Imperial College London, accompanied by the Duke of York and Chancellor George Osborne, and attend a creative industries event with the Duke and Duchess of Cambridge.
Following talks at Downing Street Xi will visit Chinese communications firm Huawei's UK offices before a banquet hosted by the City of London at the Guildhall.
However there were also criticism: Steve Hilton, a former policy adviser to David Cameron, told BBC Newsnight the UK should be imposing sanctions on China over issues such as its "vicious political oppression" and its "relentless cyber attacks", instead of "rolling out the red carpet".
"This is one of the worst national humiliations we've seen since we went cap in hand to the IMF in the 1970s," said Mr. Hilton, who left Downing Street in 2012.