Falklands: controlled explosions of ordnance as part of demining project
Wednesday, October 21st 2015 - 07:49 UTC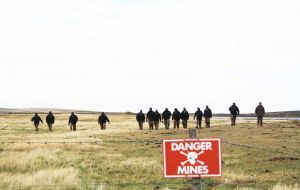 Falkland Islands demining and ground clearance operations which this season took off in September are advancing rapidly and controlled explosions of ordnance has been announced for later this week. Thousands of antipersonnel and anti tank mines in marked perimeters remain the Falklands, a legacy of the retreating Argentine forces which invaded the Islands 33 years ago in 1982.
To that effect the Falkland Island Demining Program Office has notified that controlled explosions as part of the Demining Project are due to take place on Thursday 22 October. The items are unexploded ordnance which cannot be burned.
A controlled explosion is to take place at 11.30am, Thursday 22nd, in the vicinity of minefield 50A/Eliza Cove around 650m west of the Eliza Cove Road, with a second controlled explosion 30 minutes later.
There are no road closures associated with this demolition and all normal fire precautions will be carried out.
Most of the demining work this season is concentrated in areas surrounding the capital Stanley. Phase 4B which involves work on five areas commenced during September and minefield number 33 (opposite Pony's Pass) was recently completed.
Program Manager Guy Marot said the Bactec (*) team was operating about four times faster than in 2010 when the project started and this was mainly due to techniques having improved as well as the understanding of how the mines have been laid.
"The Argentine records have been quite consistent throughout," he said.
Works by the Bactec team of de-miners are taking place in the area south of Sapper Hill near the water tanks, at Eliza Cove Bay near the rubbish tip, general area clearance on the south side of Wall Mountain and between Eliza Cove Road and the Mile Pond.
The latter area will open up the Common and provide further recreation areas near Stanley.
(*) BACTEC (Battle Area Clearance, Training, Equipment and Consultancy) Group of companies is comprised of a number of leading Explosive Ordnance Disposal, (EOD) Bomb Disposal, Mine Action companies operating worldwide from strategically located offices. The Group Head Quarters is located with BACTEC International Limited in the UK, with offices/branches located in Australia, Cambodia, Iraq, Lao PDR and Mozambique