Venezuela presents 2016 budget based on a US$40 per barrel estimate
Wednesday, October 21st 2015 - 06:35 UTC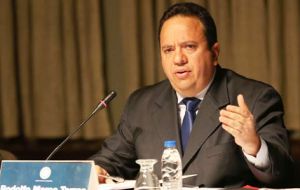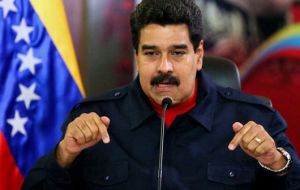 Venezuela's proposed 2016 government budget is based on an estimate of $40 per barrel for the OPEC nation's oil exports, Finance Minister Rodolfo Marco said in a presentation to congress on Tuesday.
The budget calls for spending of 1.55 trillion Bolivars, Marco said, equivalent to $247 billion at the strongest official exchange rate and more than double the amount budgeted for 2015.
Low oil prices and an increasingly dysfunctional chaotic economic model have left Venezuela struggling with chronic product shortages, soaring prices and a contracting economy.
"This budget will allow us to return to the path of economic growth," said Marco. He did not say what estimates of inflation or GDP growth were used as the underpinnings of the budget.
The government said in a securities filing this month that GDP contracted 4.0% in 2014, though some economists said the data referred only to the first three quarters of last year.
The central bank this year has not published any official inflation or economic growth figures, which has further spurred investor concerns of a potential default on foreign debt.
Marco dismissed such concerns as rumor-mongering by political adversaries.
He sought to assure lawmakers that the government has the resources to pay down state oil company PDVSA's $1.41 billion 2015 Bond, which matures on Oct. 28, and to pay a $2.05 billion amortization on the PDVSA 2017 bond.
President Nicolas Maduro last week said inflation would close 2015 at around 80%, though estimates by IMF, World Bank put this figure well above 100%.
Maduro claims Venezuela's economic problems are the result of an "economic war" carried out by business leaders with the support of opposition politicians. His critics point to price controls, currency controls and inefficient state-run companies as the principal culprits.