Malvinas veterans to march before UK embassy to demand DNA tests of remains at Darwin cemetery
Thursday, October 22nd 2015 - 06:30 UTC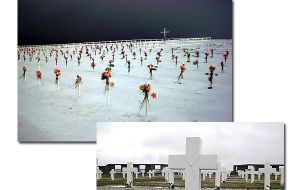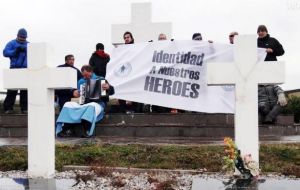 Malvinas war veterans will march next Friday in downtown Buenos Aires up to the British Embassy to demand that DNA tests of the remains in 123 unidentified graves at the Argentine memorial cemetery in the Falkland Islands be allowed to commence.
According to the release from the La Plata center of former Malvinas combatants, CICR, the rally will be taking place at midday 23 October and is motivated by the fact that allegedly the UK has yet to reply to the International Red Cross request for a protocol that should enable to begin testing the remains at the 123 unidentified graves at the Darwin cemetery.
The involvement of CICR originates following on a request from the Executive branch, president Cristina Fernandez which was delivered on 2 April 2012.
That was on the thirtieth anniversary of the Argentine military invasion of the Falkland Islands.
"It's a humanitarian action to begin the search and identification process of the Argentine soldiers buried as 'unknown soldiers' or as it reads in 123 tombs, 'An Argentine soldier known unto God'", points out the invitation to all Malvinas veterans' related organizations.
The release adds that the action is based on the request from 80 families who have consented and given DNA samples, so that a team of anthropologists in the Falklands begins extracting samples and the bodies, hopefully, 33 years after the end of the war, can be identified.
"The British government has displayed a high degree of insensitivity by not replying to the International Red Cross, and because of this we are going to make public to world opinion such cruelty towards the families of the combatants who are unable to mourn and know about the final destination of their beloved ones", concludes the release.