Macri will continue as leader of PRO party whatever Sunday's election outcome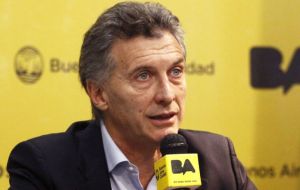 Mauricio Macri, Argentina's presidential candidate of the Let's Change (Cambiemos) opposition coalition said he will continue leading the PRO party whatever the outcome of Sunday's elections is.
"We are a team, where I clearly lead, and I will lead in the run-off. If something unexpected happens, I will continue leading the PRO, I have a responsibility that I have assumed. We are talking about 60% of Argentines that deserve to live better, who hope for an Argentina with a different kind of opportunities," the outgoing mayor of the City of Buenos said in statements to a Buenos Aires radio station.
"It is logical that (Mayor) Horacio Rodríguez Larreta shoots for leading and that María Eugenia Vidal shoots for becoming governor (of BA province) and their lives will then continue; they are young people, who have a future. I shoot for people making progress and that renovation exists. I don't believe in those who think they are irreplaceable, who want to perpetuate themselves in power."
"I picture myself revising my presidency and when my job ends, to retire from politics and that people forget about me, to recover a low profile a little bit. I could go to Italy and teach in some university, have them forget about me and then come back here and make a citizen life as common as possible," the candidate told reporters as he considered political obligations do have "costs."
"I want to enjoy going to a restaurant with my family, my sons and that no one approaches to say something because my kids get angry, they want to be with their dad," he said.
"You have to understand there is a cost in this and that you have to preserve yourself and that you always have to consider family because without affective balance nothing can be done."
Three days ahead of the elections, Macri considered he has the same chances of becoming president as Vidal of becoming governor of Buenos Aires, beating the Victory Front (FpV) candidate in Argentina's key electoral district, Anibal Fernández.
"In both there are many possibilities. Let's Change is a space of coherence and strength. I want to see Sunday's night when they say there is a run-off, I want to see Monday's newspaper and Argentina will burst. The difference is that in the province there is no run-off and (the difference) is for one vote and María Eugenia does not have it easy."