Malvinas Islands' claim: Tierra del Fuego is 'absolutely strategic"
Friday, October 23rd 2015 - 07:26 UTC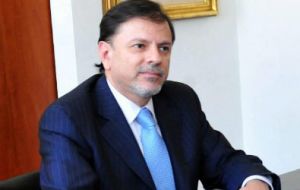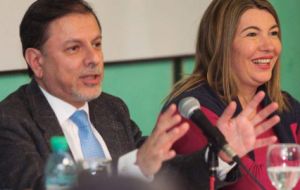 Tierra del Fuego is 'absolutely strategic" for Argentina's foreign policy because of the Malvinas Islands claim question, integration with Chile and the current process of re-industrialization, according to the country's Deputy foreign minister Eduardo Zuain who this week visited Ushuaia to coordinate actions beginning "next December" when the elected governor Rosana Bertone takes office.
"We belong to a government and a ministry of foreign affairs which gives most importance to links with the provinces", said Zuain interviewed by the media in Ushuaia.
He added that "we've come to meet governor elected Bertone and the members of her future cabinet to organize and program all the work and links between Tierra del Fuego and the ministry", beginning in December.
Tierra del Fuego, Antarctica and the South Atlantic Islands is 'absolutely strategic for our foreign policy, it's not just another province and this is closely linked to the sovereignty, re-industrialization and exploitation of our natural resources, both fisheries and hydrocarbons that has been implemented by this government for the last ten years".
"We have 94 embassies and 63 consulates around the world which are at the service of the province to promote tourism, investments, whatever the province needs or is interested in", underlined the deputy foreign minister.
"Argentina's diplomatic efforts to support our sovereign claim over the Malvinas Islands is a question that this government has been advancing worldwide and very successfully, and this province plays a major role in this question", insisted Zuain.
Regional integration is another issue and thus the Foreign ministry is supporting the Economy ministry trust fund created to enable the maritime link between Tierra del Fuego and Santa Cruz province to ensure the "Argentina-Argentina connection", which facilitates sovereign development and integration with Chile so we can have access to the Pacific for our regional exports.
"Our cooperation and brotherly relation with Chile is crucial for our development and for this reason we have extended invitations to Chilean authorities so they can attend when I take office as governor", said Silvana Bertone the elected governor.