Another Frenchman, Jerome Champagne enters race to replace FIFA's Blatter
Saturday, October 24th 2015 - 10:35 UTC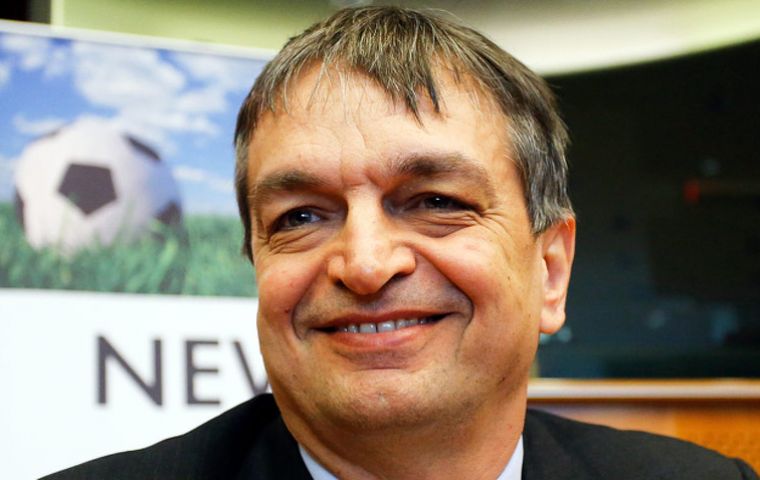 Jerome Champagne has entered the race to replace Sepp Blatter as FIFA president, his second attempt in a year. The former FIFA deputy secretary general announced his intentions on Friday, three days before the deadline for candidacies.
Champagne ran for the FIFA presidency earlier this year but didn't make the ballot sheet for the May election because he failed to get the required five nominations from federations. However this time allegedly he has eight associations supporting his bid from three continents.
Asked it he thought he had a better chance now, he said: "Only time will tell. But it is clearer that we need some fresh air. We need real platforms not a long list of slogans."
"The events of the past few months have renewed my determination to be a candidate," Champagne said in the seven-page manifesto he has sent to FIFA's 209 member associations.
"We need to save FIFA and its role of governance and redistribution, which is in danger at a time when they are needed the most," he said. "We must also restore FIFA's credibility, and prepare it for the challenges of an ever evolving world."
Champagne is positioning himself as a 'clean' candidate following the suspension of Blatter, UEFA president Michel Platini, FIFA secretary general Jerome Valcke, ongoing investigations into six other officials over corruption and probes into a $150 million bribery scandal.
"I have no connection with the issues surrounding the December 2010 vote [hit by a string of scandals] nor the special interest groups trying again to take control of FIFA," he said.
Among a list of eight pledges, Champagne vows to adapt the governance of FIFA and modernize its administration, apply the highest standards of transparency and ethics, boost development programs and elevate women's football.
"My wish is to bring stability, reconciliation, competency, modesty, willingness to listen, inclusion, openness, knowledge of FIFA, of football and the world," he said.
Champagne joins Jordan's Prince Ali bin al-Hussein and former Trinidad and Tobago player David Nakhid as presidential contenders who have filed paperwork with FIFA ahead of the Oct. 26 deadline.
Asian Football Confederation president Sheikh Salman Bin Ebrahim Al Khalifa and former South African government minister Tokyo Sexwale are mulling bids.
Champagne expressed disappointment at the controversies surrounding the FIFA presidential campaign so far.
"At a time when FIFA, our FIFA, needs more than ever an open debate about its future, its reform and the reform of football, we are witnessing the first months of the electoral campaign being dominated by controversy and deals made behind closed doors," he said.
He is calling again for TV debates about the future of FIFA involving all candidates –in December, January and February.
"You, presidents and officers of national associations who will vote during the next election, deserve to participate in this debate, as well as all the other protagonists and lovers of the round ball," he said in the letter to federations.
"You have the right to know to whom, and for what, you are entrusting your support. FIFA also deserves a proper debate about its future. Errors have been made and they must be corrected with no weakness, but justly and without a whitewash."