Argentina's runoff candidates will hold presidential debate on 15 November
Tuesday, October 27th 2015 - 07:17 UTC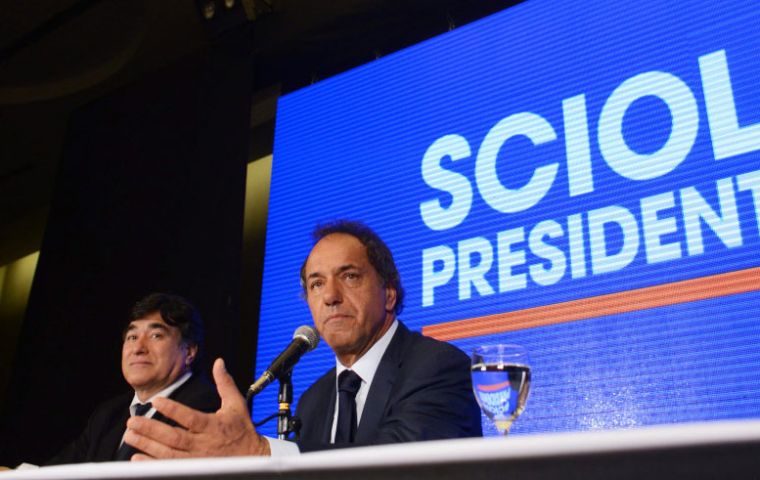 Argentina's presidential runoff candidates have agreed to a debate scheduled to take place on 15 November, a week before voting day. Incumbent Victory Front candidate Daniel Scioli, and Let's Change (Cambiemos) contender Mauricio Macri agreed to hold the debate on November 15 at 21:00 hours, at Buenos Aires University Law School.
"I had already sent to Macri, before yesterday's (Sunday's elections), a message that in case of a runoff, I considered important for citizenship to hold a debate," Scioli told reporters on Monday.
Mauricio Macri and his Let's Change coalition shocked Argentina on Sunday night by not only pushing the presidential election into a surprise second round with a minimum difference of two percentage points, but also winning the key Buenos Aires province, an event that was once seen as insurmountable as the country's largest electoral district has been in the hands of Peronims since 1983.
"A new election begins where the main discussion faces the future: if we want a government that seeks to defend, protect and prioritize, or concentration and free market policies, with indebtedness that has caused a great frustration among Argentines," he added during a press conference today.
Buenos Aires province governor Scioli expressed "optimism" stressing "we won the primaries, we won yesterday and we will win on November 22."
Joined by his running mate Carlos Zannini, the Victory Front (FpV) presidential candidate Daniel Scioli held a press conference in which he exhorted the supporters of the Renewal Front led by Sergio Massa, Margarita Stolbizer's Progressives and non-Kirchnerite Peronists represented by Adolfo Rodríguez Saá to back him in the November 22 runoff that will have him facing Mauricio Macri of the Let's Change (Cambiemos) opposition "alliance."
The outgoing governor of the province of Buenos Aires first congratulated his successor María Eugenia Vidal who unexpectedly beat FpV's Aníbal Fernández in a shocking election yesterday. Scioli as well acknowledged the efforts by Mauricio Macri securing a second place and by Sergio Massa, the leader of the Renewal Front, for his "will and perseverance" to compete in the elections.
"The Constitution is wise and the Law was modified so that with all clarity Argentines can define what kind of country we want to live in," he said and affirmed there are "two different visions" that will be challenging each other in four weeks, standing for different "priorities."
"The word change might sound attractive; we have to give a profound discussion about what kind of change Argentines want," Scioli said alluding to the campaign slogan of the Let's Change coalition calling voters to support a "Change" to defy the Kirchnerite administration.
"I very well know what we have to protect and maintain and how the agenda of development continues: giving priority to employment, the national industry, getting out of debt, the recovery of YPF to reach energy sovereignty, the recovery of the trains to set their infrastructure now," Scioli said underlining the runoff will be "more than the confrontation" between the FpV and the "alliance" of Let's Change.
"Today a new election begins; facing the future, the bottom debate is between a government that has very clear what it has to defend, protect and prioritize, what we call the light blue and white circle, or that concentration (seeking to) free everything to the rules of market."