Third ranked Massa will not vote for continuity, and Scioli "must prove he's not on the Kirchner leash"
Wednesday, October 28th 2015 - 06:41 UTC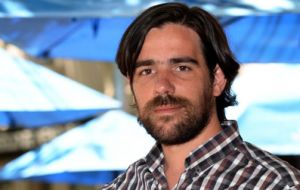 "The Argentine people on Sunday said they don't want continuity" commented third ranked Sergio Massa who obtained 21.34% of ballots and is bound to become kingmaker in the 22 November runoff between Daniel Scioli and Mauricio Macri. Whoever wins will be putting an end to twelve years of Kirchnerism which on Sunday received an unexpected and surprising trashing.
Massa, a dissident Peronist leader of A New Alternative, UNA informed that together with his group they were finishing a set of conditions, 'programmatic proposal' to be publicly revealed on Wednesday directed to the two runoff candidates. However he refused to say which candidate he was planning to support.
Following Sunday's 'technical draw' between incumbent Scioli, 36.8% and conservative Macri, 34.3% (polls were anticipating a ten-point difference for Scioli), Massa has become the leader to politically woo and seduce.
The former cabinet chief who broke with the Kirchners in 2009, shocked the incumbent Peronist chiefs when he said that "as long as Scioli is not the leader of his political force, he won't be able to rule over nothing".
"He must cease being a staff member of (president) Cristina Fernandez" underlined Massa. Scioli in effect was handpicked by CFK to be the incumbent candidate.
"Scioli must have the guts to get Kirchnerism off his back; however I don't believe that who has arrived to a position with an obedience dynamics can change...if you behave as a carpet, don't complain if they tread on you", added Massa.
Following Sunday's vote both Scioli and Macri advanced some of their future policies which coincided with those of dissident Massa such as full combat against the drug trade; insecurity; increasing old age pensions and minimizing levies on salaries. According to reliable reports both groups are involved in discussions with UNA members.
Massa also had some 'compliments' for the incumbent candidate for governor of the Buenos Aires province, the largest and most influential electoral district in Argentina, Anibal Fernandez who is currently cabinet chief.
"He was an Herminio Iglesias XXI century coffin version" said Massa recalling the Peronist presidential hopeful of 1983 who on the last gigantic rally before Election Day, he set a coffin on fire wrapped with the flag of the main Radical opposition party and thus lost control of the Buenos Aires province.
Massa said he was "very happy and grateful to the over 5.2 million Argentines who trusted us" and recalled that UNA won in over 200 municipalities in the country, and have managed to "make up one of the leading blocks in Congress".
However, "I'm not the boss of the votes and to believe so would be arrogant, because people know very well how to choose each time" and more specifically recalled that in 2013 "I was supported by 45% of votes in the Buenos Aires province, and now for president I only managed 25%; people saw me more apt for one post than for another, but what I can emphasize is that on Sunday people said no to continuity".
"The big winners are the people, the voters who broke the fear chains that had been set up and voted freely", he insisted and made a point of congratulating Maria Eugenia Vidal on her governorship victory in Buenos Aires province: "it's most significant because it was only after the dictatorship (1983) that Peronism did not win this province".
"I believe this is the end of an era, because it's the end of leaderships protected by a feudal logic".
Regarding the other presidential candidates, Nicolás del Caño from the Left Front who was fourth with 3.3% of the vote, anticipated he would ask his followers to vote blank, while Progressive candidate Margarita Stolbizer (2.54%) also said she would not support continuity.
"My congratulations to the winners and to all those celebrating the overwhelming wish for change", said Stolbizer, who personally admitted she would not vote for incumbent Scioli, "since he clearly represents continuity of this government". However it's up to the group to decide what to vote on 22 November.