Argentina: Holdouts dispute, a Cristina Fernandez legacy for the next government
Thursday, October 29th 2015 - 06:31 UTC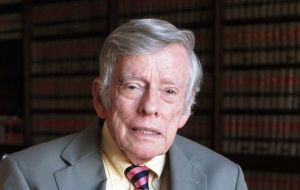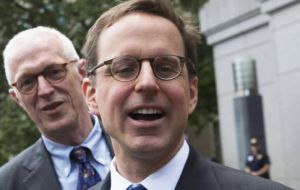 US District Judge Thomas Griesa of New York on Wednesday urged Argentina to resume talks to settle bondholder litigation flowing from its $100 billion default in 2002. The judge made the remarks as creditors suing over defaulted bonds urged him to expand to nearly $8 billion the amount Argentina must pay them to service its restructured debts.
Griesa however made no reference to Sunday's election to replace Argentine President Cristina Fernandez, whose administration has called the suing creditors "vultures". The election faces a run off next 22 November between the two most voted candidates.
The judge noted Argentina previously declined to participate in settlement negotiations and said he assumed "at this late date in this very lengthy litigation that attitude is over with" and insisted "the way to ultimately resolve this litigation must come through settlement".
The comments came during the latest hearing litigation by creditors seeking full repayment on Argentine bonds following the country's 2002 default. The holdouts spurned Argentina's 2005 and 2010 debt restructurings, which resulted in 92% of its defaulted debt being swapped and investors being paid less than 30 cents on the dollar.
Wednesday's hearing concerned whether Griesa should order Argentina to pay 530 creditors seeking $6.15 billion when it services its restructured debt. Those creditors were seeking the same treatment as several hedge funds Argentina was ordered to pay $1.33 billion plus interest. They are identified as the 'me too'.
The decision, which the U.S. Supreme Court declined to review, pushed Argentina into default again in July 2014 after it refused to honor Griesa's orders and failed to settle with the holdouts, who with interest are now owed $1.76 billion.
Robert Cohen, a lawyer for Elliott Management's NML Capital Ltd, a lead holdout, argued on Wednesday that expanding the amount of debt subject to an injunction would be a "plus not a minus" in facilitating a settlement.
Carmine Boccuzzi, Argentina's lawyer, countered that doing so would complicate settlement talks by expanding the number of holdouts with "veto power" over a deal.
The hearing came after Sunday's presidential election in Argentina to determine who would succeed Fernandez ended with a strong showing from a pro-business opposition candidate. Cristina Fernandez is schedule to step down on 10 December, and until then the Argentine position remains unmovable.
Griesa, holdouts and the 'me too', will have to wait for the new government to see what chances of an agreement are possible, if any.