Chavistas "will not surrender the revolution", even in defeat in December's elections, warned Maduro
Saturday, October 31st 2015 - 10:12 UTC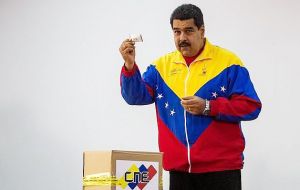 Venezuelan President Nicolas Maduro warned that he wouldn't let a defeat in December congressional elections derail his government even as his socialist party faces the possibility of losing control of the national assembly for the first time in 16 years.
While the embattled leader said he would accept the results of the election, whatever the outcome, even in a "negated hypothetical scenario" he's not willing to "surrender the revolution."
"I would govern with the people, always with the people and the civil-military union," Maduro said late Thursday on state television, in response to a question on how he would govern in the event the opposition takes control of congress. "In such a scenario, Venezuela would enter one of the most turbulent and poignant stages of its political life."
Triple-digit inflation, the worst economic contraction in the world this year and record shortages of food and medicine are undercutting support for both Maduro and his party. Candidates for Venezuela's opposition alliance and independents are expected to get 66.3% of votes in the December election, according to September poll by Caracas-based Venezuelan Institute of Data Analysis, known as IVAD.
Furthermore, Maduro in July signaled that he won't allow international observers to monitor the election. Brazil's electoral court TSE said earlier this month that it wouldn't join a Unasur mission to observe the election citing delays in an accord with Venezuela's electoral body.
"The revolution will not be surrendered ever," Maduro said. "With the constitution in hand, we will push Venezuela's independence forward, whatever the costs, in any way.