US Navy Carrier Strike Group 9 anchored off Punta Arenas for Unitas exercises
Monday, November 2nd 2015 - 08:07 UTC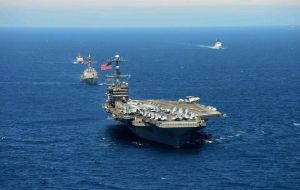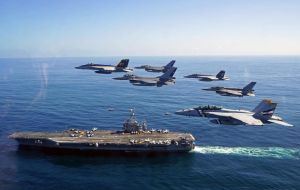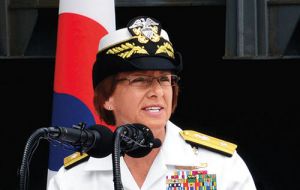 The United States Carrier Strike Group 9 which is participating in a series of 'Unitas' exercises with different Latin American and Pacific countries, anchored off Punta Arenas and is scheduled to leave on Monday for Rio do Janeiro, Brazil, according to reports from the extreme south Chilean city port.
It includes the nuclear carrier "George Washington", the guided missile destroyer "Chafee", a Coast Guard cutter "Bertlholf" and the support vessle TAO "Guadalupe".
According to the report the Battle Group 9 of the US Navy is under the command of Rear Admiral, Lisa Franchetti.
While sailing along the Chilean coast the Carrier Strike Group 9 was escorted by the Chilean frigate "Almirante Riveros". While in Punta Arenas the command of the Strike Group 9 completed formality visits to different civilian and military officials in the city.
Chilean sources reported that onboard the carrier travelled the Ray Mabus, US Navy Secretary, who took a flight from Punta Arenas back to the US.
According to the US Navy, the USS George Washington and Carrier Strike Group 9 will be in Latin American waters through December for UNITAS 2015, the Navy's longest-running annual multinational maritime exercise.
The first phase of UNITAS, hosted by Chile, involved 11 nations: the U.S., Chile, Colombia, Ecuador, El Salvador, Guatemala, Mexico, New Zealand, Panama, South Africa and Australia, a Navy statement said.
The second phase, to be hosted by Brazil in November, will take place in the Atlantic with nine participating countries: the U.S., Brazil, Cameroon, Chile, Guatemala, Honduras, Mexico, Peru and Senegal.
"The purpose of the annual UNITAS exercise is to develop and sustain relationships that improve the capacity of both U.S. forces and partner nation maritime forces," Rear Adm. George Ballance, commander of U.S. Naval Forces Southern Command/U.S. 4th Fleet, said in the statement. "Carrier Strike Group 9 and USS George Washington's participation in this year's exercise makes it one of the largest UNITAS exercises in recent memory."