Malvinas war Argentine film screened to Falklands veterans at embassy
Friday, November 6th 2015 - 07:49 UTC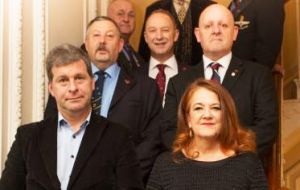 British veterans of the 1982 Falklands/Malvinas conflict met with Argentine ex-combatant Edgardo Esteban at the Embassy of Argentina in London where an Argentine produced film about the war was screened.
According to an official release from the Argentine embassy, the film, "Enlightened by Fire" was preceded by a brief introduction from Edgardo Esteban, a Malvinas veteran author of the book "Enlightened by Fire: confessions of a soldier who fought in the Malvinas".
Directed by Tristán Bauer and based on Edgardo Esteban's book, the film offers a profound reflection on the bravery of the Argentine soldiers and the sacrifices they made, whilst also denouncing the human rights violations that they suffered during the South Atlantic conflict at the hands of their officers.
"The cruel military dictatorship that was ruling Argentina at the time went to war as a means of retaining power" - stated Ambassador Castro – "in the same way that Margaret Thatcher's Conservative government prevented a peaceful solution, seeking electoral gain".
In a groundbreaking event, the film was screened besides a group of British veterans to film makers, students and members of the public from both communities.
Following the film, a panel of academics from Cambridge University and the University of London shared their thoughts. The panel was chaired by Professor Bernard McGuirk, head of Nottingham University's International Consortium for the Study of Post-Conflict Reconstruction and Reconciliation.
Members of the large audience also participated, and expressed how moved they were to witness this moment of union, fraternity and reconciliation.
"Former enemies, now brothers in arms" the British veterans observed, thanking the Embassy of Argentina for offering "A unique opportunity to meet other veterans, helping to heal the wounds of the past. A great number of us have suffered as a result of the conflict, many sadly taking their own lives".
"If those soldiers who faced each other on the battlefield are today able to shake hands, it is inconceivable that politicians are incapable of engaging in dialogue", Ambassador Castro pointed out.
"Argentina is ready for dialogue. The British Government should heed the calls of the entire international community and 41 United Nations resolutions and come to the negotiating table to find a peaceful, diplomatic and permanent solution to the sovereignty dispute", concluded the Argentine ambassador.