North of Chile rattles with a series of tremors which were felt in Argentina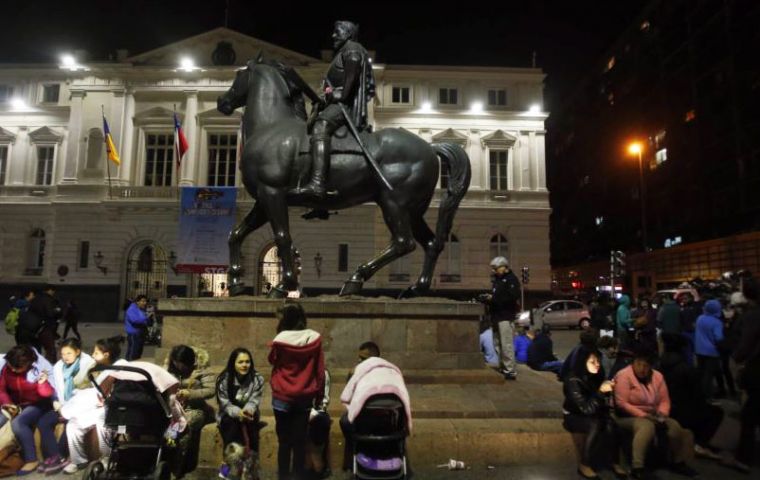 North of Chile has been rocked by a series of tremors during early Saturday and most of Sunday, but no injuries or damage has been reported, the University of Chile's Seismology Institute said. The earthquake shook an estimated 20 cities, Arica, Cuya, Pocon Chile, Camina, Mamiña and Pisagua, the national emergency management office said.
Residents of several cities and towns in Antofagasta region ran into open areas in a panic as soon as the ground started to rock, radio reports said. The tremor was also felt in Santiago.
Chile was hit by a magnitude-8.4 earthquake on Sept. 16 that killed 13 people, forced more than 9,000 others from their homes and caused extensive damage.
The earthquake caused a tsunami, forcing officials to order the evacuation of more than 1 million people living along the coast.
Saturday/Sunday's phenomenon was also recorded to the east side of the Andes in neighboring Argentina where it was felt in the provinces of San Juan, Mendoza, La Rioja, Cordoba, Catamarca and Jujuy, but no injuries or damages were reported.
According to the US Geological Survey one of the quake's epicenter was about 100 km (62 miles) south of the port city of Coquimbo, Chile, and it struck at 4:32 a.m. (0732 GMT) and also woke residents in the capital, Santiago, to the south.
Chile's navy had initially issued a warning of a small tsunami for the nearby coastal area, but later cancelled it. There were reports on social media of electricity cuts in the area.
The emergency office, Onemi, said it was closely following and evaluating the situation. Chile is one of the most seismically active regions on earth and buildings are designed to cope with the regular quakes there.