Brazil's mining disaster impacts BHP Billiton shares on fears of cleanup costs
Wednesday, November 11th 2015 - 07:07 UTC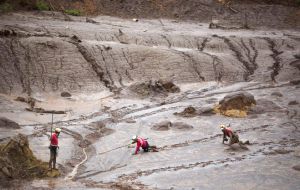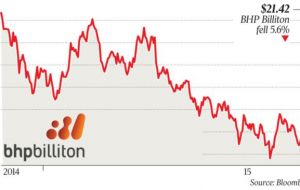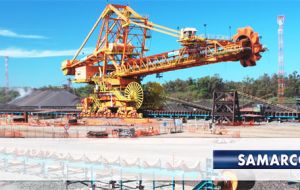 Investors continued to dump shares in mining giant BHP Billiton Ltd. following the deadly dam burst last week at its jointly owned iron-ore mine in Brazil, even as the company sought to clarify responsibility for the disaster that has already claimed the lives of three people.
The mining giant said it still hasn't determined what caused one dam to fail and another to be "affected" last Thursday at the mine in Minas Gerais state. It said its chief executive Andrew Mackenzie and the head of its iron ore business, Jimmy Wilson, would be in Brazil to assess what further support it could provide for the response effort.
BHP also stressed in an emailed response to questions from The Wall Street Journal that Samarco, the company it 50:50 owns with Brazil's Vale SA, was "responsible for the entirety" of the operations at the iron ore mine.
BHP appoints half of the directors on the board of Samarco, and receives "regular reports" on its operations, the company said. However, it declined further comment on the nature of its oversight of the Samarco company.
Nonetheless, as more information about the extent of the damage caused by the dam burst emerges, analysts are trying to tot up the potential bill for both BHP and Vale SA. The dam breach was the largest-ever spill of its kind, according to Robert Chambers, president of the nonprofit Center for Science in Public Participation, whose group has tracked these types of failures back to 1915.
The cost to the companies, including for cleanup and rebuilding, could top US$1 billion, said Paul Young, a Sydney-based analyst at Deutsche Bank, who estimated the mine could be closed until about 2019. He described the dam burst as "catastrophic."
BHP's Australian shares total losses since news of the accident broke have been more than 7% and the stock is at its lowest level in seven years. BHP is dual-listed in Australia and the U.K.
BHP said there are three so-called tailings dams used to store mineral waste and water at the mining operation. One burst, spilling the contents into the collection of waste held back by a second--as well as across a rural swath of southeastern Minas Gerais, where it inundated the village of Bento Rodrigues. The third dam is being monitored by Samarco Mineração S.A, the mine's operator, BHP said.
"At this time, there is no confirmation of the causes of the tailings release," BHP said in its regulatory filing.
Morgan Stanley analysts said it was unclear whether insurance will cover part of the cost for Samarco, which operates as an independent company. Samarco was holding US$700 million of cash and US$4.9 billion of debt on its balance sheet at the end of June, it said.
"Potentially, the Samarco joint venture will have to reapply for its operating and environmental licenses," it wrote in a note.