Uruguay hopeful of a more 'flexible' Argentina whoever wins on 22 November
Wednesday, November 11th 2015 - 07:35 UTC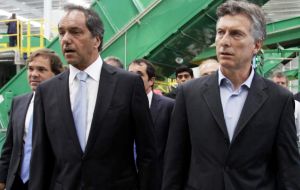 The Uruguayan government is hopeful that with president Cristina Fernandez no longer at the helm of Argentina, as of 10 December, a more flexible attitude can be expected from the newly elected authorities, particularly regarding Uruguay's intention of signing trade agreements with third parties, if Mercosur is not interested in such commitment.
Although Uruguay's policy is priority to trade negotiations in the framework of Mercosur, if any of its members is not willing to advance, the government of president Tabare Vazquez ratified it will request its partners to advance on its own on the bilateral track. This was particularly true during Vazquez' recent visit to Japan, where according to his statements, he found a positive ground to reach a bilateral agreement with Tokyo.
To that effect Uruguay's foreign minister Rodolfo Nin Novoa said the Uruguayan government trusts that whoever wins in the Argentine runoff, be it Daniel Scioli or Mauricio Macri, they will both be more inclined to reach trade agreements inside or outside Mercosur, than what has been the case so far with Cristina Fernandez whose policy has been to privilege Argentine manufacturing and jobs.
When Vazquez took office last March he strongly promoted with Brazil and Paraguay, that the Mercosur/European Union, if necessary be agreed on a 'two-speed' track, which meant signing the accord in 2016, and leaving Argentina to follow. But given Argentina's refusal, Brazil finally agreed it had to be a block to block deal, as established in a Mercosur clause.
"Yes there is going to be a change in Argentina, which is most important. There are two candidates in the 22 November runoff and we have good relations with both of them and I believe they have a way of looking at world and regional affairs which is something different to what is sponsored by the current elected authorities", said Nin Novoa, when asked specifically about the issue.
The Uruguayan official said Montevideo will insist with the different-speeds approach to agreements between Mercosur members and other countries.
Economy minister Danilo Astori likewise said that promoting trade agreements outside Mercosur will also help reduce the group's asymmetry between members with greater potential such as Brazil and Argentina, and those with lesser influence, Paraguay and Uruguay.
"Admitting that Mercosur is facing difficulties, the president (Vazquez) insists that one of the options to help overcome those difficulties is to reach accords outside the region. And this is true, the president exposed the case before the Japanese authorities which were most interested in the proposal", added Astori.
Nin Novoa insisted that the 'lack of results' for Uruguay in achieving a greater trade opening is disadvantageous for the country globally. In effect the minister compared the situation with what is happening in the Asia-Pacific basin, where there are two countries with similar production to Uruguay such as Australia and New Zealand.
"Most of the beef Japan imports comes from Australia and it has to pay a 38% tariff. Once the Trans Pacific trade accord is signed the tariff will gradually drop to 9%, and thus the importance as to how other suppliers make their moves while we remain non active of with little or no results to show. I think there is much to advance, much to think and put into action, and the case of Japan, with its very demanding market, is evidence of what I'm stating", concluded Nin Nova.