Argentina's purchase of Israeli fighter jets will be left to next government
Thursday, November 12th 2015 - 07:49 UTC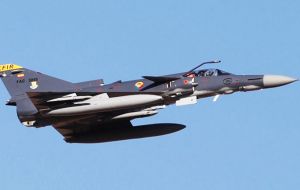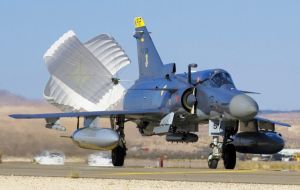 Argentine defence minister Agustin Rossi has announced that negotiations for new fighter jets are under way, but will be left to the next government to purchase. Rossi's decision comes only a day after the Argentine government announced the purchase of Israeli manufactured Kfir fighters.
The basis of the agreement would see an initial outlay of $60 million and payments in instalments until the delivery of the first aircraft, which could take 18 months. Each aircraft costs $21.6 million and the total cost of $317 million includes five years of service maintenance.
The Israel Aircraft Industries (IAI) Kfir is an Israeli built multirole combat aircraft based on a modified French Dassault Mirage 5 airframe, with Israeli avionics and an Israeli-built version of the General Electric J79 turbojet engine.
IAI had been offering a Block 60 version of the roughly 40-year-old Kfir design, powered by a GE Aviation J79 engine. The company says the power-plant will be supplied in a "zero-hour" condition after a complete overhaul, with replacement required after 1,600 flight hours.
The jet will also be fitted with an Elta Systems EL/M-2032 active electronically scanned array (AESA) radar, a relatively potent sensor system.
This comes after a significant period of decline in which the Argentine armed forces ceased to be a capable military force. In August 2015, the Argentine air force retired its Mirage fighters, with only a handful of them even flyable.
The problems don't stop there, their submarine crews despite benefiting from a recent upgrade, need at least 190 days of immersion practice and in 2014 only spent 19 hours submerged. A similar situation is faced by their four destroyers, they don't have any weaponry.
Argentine ground forces rarely have the resources for training and are vastly under equipped, their kit dates back to the 70's and is in very short supply. In addition to this, the Argentine Air Force largely consists of a collection of obsolete aircraft mostly dating back to the 1970's, which are frequently grounded due to poor serviceability. They're now even getting rid of their only semi-capable fighter aircraft.
According to IHS Jane's: "The Argentine Air Force is drastically cutting staff working hours and decommissioning its last fighter aircraft amid continuing budget issues.
"A recently published daily agenda indicates that the service's working hours have been significantly reduced, from 0800 to 1300; rationing of food, energy consumption, and office supplies has been directed headquarters staff and property residents; and only the minimum personnel required to staff headquarters, directorates, and commands are working.
"These orders, issued on 11 August, take effect 18 August. A next step will cut Monday and Tuesday as working days. Moreover, air force officials said any aircraft taken out of service will not undergo maintenance for now."
"This left the Argentine military with just two types of jet aircraft A-4's and IA-63's and both are subsonic, decades old and barely serviceable. Argentina had looked into buying new Gripen's from Sweden via Brazil but this was vetoed by the United Kingdom which makes a large number of internal components for the aircraft. They had also looked at JF-17's from China, but the JF-17s proved too expensive to modify".
Argentina lost most of its Air Force to the British armed forces during the 1982 Falklands conflict. Except for a few A-4 Skyhawks supplied by the US, there have been virtually no replacements.