FIFA says five candidates are eligible to stand in Feb. 26 election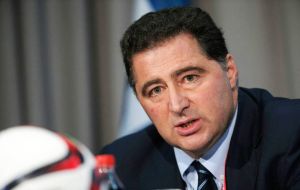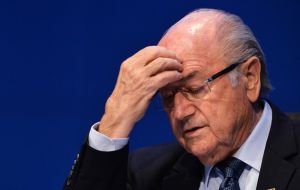 The contenders to replace Sepp Blatter as head of world football association FIFA are: Prince Ali Al Hussein, Sheikh Salman Bin Ebrahim Al Khalifa, Jérôme Champagne, Gianni Infantino and Tokyo Sexwale. Liberian FA president Musa Bility was dropped from the field after failing the check, while suspended UEFA boss Michel Platini will only be considered if he successfully appeals his 90-day ban. He would then be subject to an integrity check.
Sheikh Salman was put through despite calls by human rights groups for FIFA's ethics chiefs and electoral committee to reject the candidacy of the Asian football president. Sheikh Salman is under intense scrutiny over his alleged involvement in human rights abuses linked to the pro-democracy crackdown in Bahrain in 2011.
FIFA said it had conducted a similarly thorough check on the other six FIFA presidential candidates. Dossiers were handed over to Domenico Scala, chair of the ad-hoc electoral committee which named the five.
FIFA explained the integrity checks, saying the process involved first creating detailed reports of risk-relevant information relating to each candidate.
"The integrity check included a review of corporate records, litigation cases, bankruptcy proceedings, potential regulatory actions taken against the candidate and a review of media reports concerning potential red flags (fraudulent behavior, match manipulation, human rights violations, etc.)," FIFA said.
"Each candidate was then asked to comment on the content of the detailed report produced."
"The final integrity check reports and the comments submitted by the candidates were provided to the members of the Ad-hoc Electoral Committee and evaluated to determine whether each of the candidates fulfilled the requirements for the presidency as outlined in the FIFA Statutes and Regulations," FIFA added in a statement.
Scala's Ad-hoc Electoral Committee said that "for reasons of protection of personality rights" it would not comment publicly on why Bility failed the integrity check, although he has been given a detailed explanation on the specifics of the decision.
The Liberian FA chief can appeal the decision at the Court of Arbitration for Sport (CAS) in Lausanne.
The removal of Bility from the race will boost Sexwale's campaign. The South African will seek to secure a solid platform of votes from the 54 member nations of the Confederation of African Football. But he must first win over CAF president and acting FIFA chief Issa Hayatou and his executive committee.
The CAF executive "granted audiences" with four of the FIFA presidential candidates at Cairo meetings last month – Sheikh Salman Bin Ibrahim Al-Khalifa, Prince Ali Bin Al Hussein, Gianni Infantino and Tokyo Sexwale.
African football's ruling bodies decided to leave its options open, declining to endorse any candidate. That situation may change in the coming weeks, and Sexwale will hope he is the man to benefit.
Meanwhile from Zurich it was reported that Blatter's, the suspended FIFA president has left a Swiss hospital. Blatter spent about a week having his health assessed, about a month after he was suspended for 90 days by the FIFA ethics committee.
Klaus Stoehlker said Blatter was discharged on Wednesday. Blatter's daughter Corinne has taken him to his hometown of Visp to relax before he returns to his private office in Zurich next week.