The economy and the role of the state expected to be center piece of Argentina's Sunday presidential debate
Saturday, November 14th 2015 - 12:29 UTC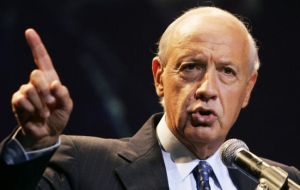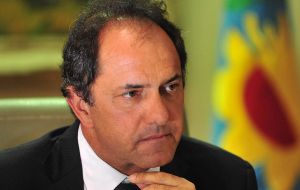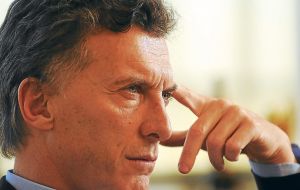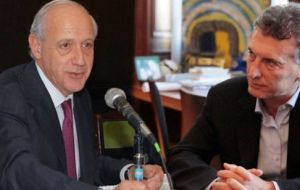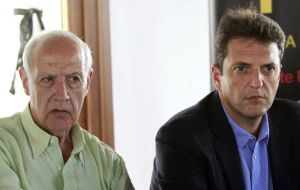 Sunday's presidential debate in Argentina will most probably concentrate on economic policy mainly for two reasons: one that the current system with a dollar clamp, export duties, heavy influence of the government and wild spending has the economy on the verge of collapse; but the option of orthodox policies with drastic cuts in spending, salaries and possibly jobs and consumption is also seen as fearsome.
The first option with Daniel Scioli would be "continuism", maybe with very gradual changes, of current policies since after all his master in Cristina Fernandez and Kirchnerism, and the Buenos Aires province governor did not or could not distance himself sufficiently from her mentor and all the resistance her character and attitude triggers in much of Argentine public opinion.
The other market-friendly option from Mauricio Macri has unequivocally several orthodox economists aligned behind it, who seem to prefer a shock medicine and on the very first day, a path stigmatized with the alleged return to the 'liberal' or 'neo-liberal' economic policies of the nineties.
A leading role for the State in the country's economy is a long established belief among most Argentines, and the privatization experiences of the nineties did not deliver what was expected or promised from them.
Thus it is no wonder that economists allied with Macri's Let's Change alliance are coming under increasing fire, with a prominent, distinguished and respected figure such as Roberto Lavagna becoming the latest economist to accuse the coalition of hiding its policymakers from the public in order to obscure their 'right-wing ideas'.
Let's Change economists Carlos Melconian, Federico Sturzenegger and Alfonso Prat-Gay were all targeted by key figures including presidential hopeful Scioli, in response to Macri's decision to shift the focus of the campaign away from the economy after it was accused of planning a shock devaluation.
But the most surprising words came from Lavagna, arguably the best-known economist among the advisers to Sergio Massa, who came third in October's elections and is now seen by some analysts as a kingmaker ahead of November's runoff between Macri and Scioli.
Lavagna had initially hinted at voting for Macri after Massa's elimination, saying he would "choose change" in the runoff, but this week he distanced himself from the outgoing Buenos Aires City mayor.
"Some of Let's Change's spokesmen were taken out of circulation to stop them from saying what they think. And others who have not been taken out of circulation are saying similar things to what (former Carlos Menem and Fernando De la Rúa's Economy Minister Domingo) Cavallo used to say," Lavagna told a Buenos Aires radio station.
The reference about economists being "taken out of circulation" was a veiled dig at Melconian and Sturzenegger, who have cut back on their public appearances in the last months and replaced by Prat-Gay and Rogelio Frigerio.
Frigerio and Prat-Gay are not as strongly associated with pro-market policies, with Prat-Gay usually highlighting his role pushing for the approval of the Universal Child Benefit (AUH) and Frigerio his ties family ties to a famous Argentine pro-development economist.
Lavagna reiterated that he was not planning to vote for Scioli, but showed growing skepticism for Macri's economic program too.
"I think there are two proposals, one wants a very low dollar and the other a very high one, arguing that it won't affect prices. I don't really agree with any of the two," Lavagna said. "It is not clear whether Let's Change's plan is one of economic growth or one of traditional austerity. If it's the latter, then we are going to combine the worst of both worlds, we'll have a strong devaluation and strong inflation."