Cristina Fernandez overspending to the last Peso and credit before leaving
Monday, November 16th 2015 - 08:15 UTC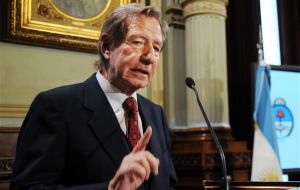 Outgoing Argentine president Cristina Fernandez will be leaving not only the Central bank reserves exhausted but also a budget deficit which is estimated at 7% of GDP by the end of the fiscal year, equivalent to 400.000 million Pesos, according to the country's National Auditing Office, AGN.
The financial deficit could be above 7% of GDP by the end of the year, which is several times the budget estimate presented to congress, and would be the seventh year running that Argentina ends with a fiscal deficit, said the AGN report.
Further on it points out that during the current year Congress approved a "fiscal deficit of approximately 50.000 million Pesos for the twelve months, but in the first six months it already stands at 100.000 million Pesos".
More specifically AGN said that normally most of the revenue, 50% is collected during the first half of the year, and the same can be said of expenditure but in the second half, when disbursements are over 60%, "so most probably the deficit will increase considerably during the second half".
AGN is currently under the chair of Leandro Despouy who belongs to the opposition Radical party, but four of its seven members are acknowledged militants of Cristina Fernandez' Victory Front. At the beginning of the month the Lower House with ample Kirchnerite majority approved and took the oath of office to two Victory Front designees, one a former Justice minister and the other an ex CEO of the government's largest commercial bank.
The AGN report also points out that revenue during the first half of the year increased 25% over the same period a year ago, while expenditure soared 40%. "This means it's the seventh consecutive year of fiscal deficit". Likewise the auditing office points out that the estimates do not take into account "the traditional expenses' increase in an electoral year, which could further worsen the situation".
As an example AGN mentions that "publicity and propaganda" expenditure during the first half of 2015, was well above the initial credit appropriated for the whole twelve months".
"The Budget bill authorized 1.405 million Pesos for this item, but during the first half of 2015, a total of 1.514 million were spent, 73% of which by the office of the Cabinet Chief", says AGN.