Presidential debate with no clear winner which favors Macri, unless there's a 'black swan'
Tuesday, November 17th 2015 - 09:32 UTC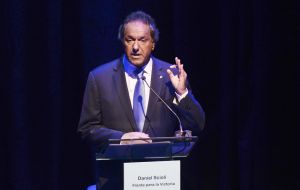 Argentine political analyst Graciela Römer.said there was no clear winner at Sunday's presidential debate between incumbent Daniel Scioli and opposition candidate Mauricio Macri, which nevertheless broke television audience ratings, similar to those of last year's World Cup final between Argentina and Germany.
"There was no clear winner because none of the two candidates managed to prepare a destabilization condition, previous to any knock-out situation, which would then have been decisive", said Ms Römer.
She added nothing of this happened because "there was very good coaching on both sides and good structuring of debating terms".
However "what would have been very useful was a lie-detector" because both candidates repeatedly "were untruthful in many of their statements".
Likewise Jose Octavio Bordón, organizer of the "Argentina debates" event at Buenos Aires Law School pointed out to the significance of the event, as such the first in Argentine political history, despite its shortcomings.
According to Bordón the "field was neatly balanced and they both complied with the rules of the game, and most outstanding cable and open channels transmitted the debate".
And, "both candidates were very careful in keeping to the main points and strategy of their campaigns; they insisted with their messages, and not much more".
Finally Ms Römer said that this kind of debates "have a relative effect on the electorate; the chances of changing the vote is very low. The debate was little oriented as to how achieve what has been promised along the campaign. For example not a word about foreign policy, corruption or poverty, which would have been enlightening".
But another analyst, Sergio Berensztein was more to the point and said "there is a feeling that Macri came out a bit better, particularly in the first two of the four blocks".
"I think Macri has an important advantage, which Scioli was unable to turn around during Sunday's debate, a week ahead of the 22 November vote; this means unless Kirchnerism does not come out with some hat trick, it's hard to see any changes on current tendencies next Sunday", added Berensztein.
Nevertheless the analyst said people and myself "were left with the feeling we wanted more, something deeper: too much enumeration but little substance, but also not enough time to display the ideas and have a real in depth debate".
Berensztein, as Ms Römer pointed out there is no evidence that the debate helped to define or not, any of the two candidates.
In effect the feeling is that Macri came out a bit better, particularly at the beginning, "he was more incisive than expected, but Scioli recovered in the following blocks when he slammed the mayor of Buenos Aires city on how he was going to combat the narcotics trade.
"You couldn't deal with the problem of 'trapitos' (informal car parkers), and now you want us to believe that you will solve the problem of drug-trafficking?"
Summing up Berensztein said that the candidates were better prepared "not to answer than to answer", thus if the team coaching the incumbent candidate Scioli does not manage some black swan, Macri is the winner next Sunday