France and Russia agree on an unusual alliance against the Islamic State
Wednesday, November 18th 2015 - 07:14 UTC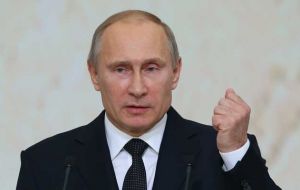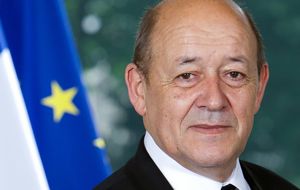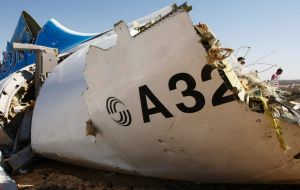 France and Russia agreed to coordinate their military and security services in an unusual alliance against Islamic State jihadists in Syria on Tuesday after a devastating attack on Paris and the bombing of a Russian plane.
Warplanes from both countries unleashed bombs on the IS stronghold of Raqqa as Paris and Moscow vowed merciless retaliation for attacks that have galvanized international resolve to destroy the jihadists and end the nearly five-year Syrian war.
"It's necessary to establish direct contact with the French and work with them as allies," Russian President Vladimir Putin told his military top brass as France prepared to send its flagship aircraft carrier to the eastern Mediterranean, where the Russian navy is deployed.
Hollande will hold talks on strengthening cooperation against IS with Putin in Moscow on November 26, two days after seeing US President Barack Obama in Washington.
In grieving France, police racked up arrests and seized weapons as they scoured the country for clues after a wave of coordinated attacks by gunmen and suicide bombers on Friday night that left 129 dead and shook the country to its core.
Only 117 of the victims have been identified and 221 people are still in hospital.
Stunned residents continued to flock to shrines of candles and flowers, while photographs of smiling young victims have been pasted at attack sites or outside their places of work.
The city is palpably more shaken than after attacks in January which killed 17 people, including at the Charlie Hebdo satirical weekly and a Jewish supermarket.
But many have defiantly returned to terrace cafes four days after attackers struck in a string of attacks as people watched a France-Germany football match, a rock concert, or enjoyed a night out at restaurants and pavement cafes.
Charlie Hebdo itself unveiled its tribute cover for the attacks depicting a dancing reveller, bottle and glass in hand, with champagne pouring out of holes in his body. "They have weapons," the caption reads, adding underneath: "Screw them, we have champagne."
French investigators have identified five of seven attackers who were killed or blew themselves up in the attack, and have launched a manhunt for an eighth man, 26-year-old Salah Abdeslam, whose brother was one of the suicide bombers.
A bus driver and a bar owner were among the jihadists, most of whom were French and Belgian nationals, while one of them had a passport apparently issued in Syria.
Investigators believe Belgian jihadist Abdelhamid Abaaoud, who is based in Syria and knew Salah Abdeslam, may be the mastermind of the attacks.
Police on Tuesday found a second car rented in Belgium by Salah, while his brother was found to have rented an apartment in the Parisian suburb of Bobigny a few days before the attack.
Hollande vowed to destroy IS in a rousing speech to a joint sitting of parliament on Monday, saying there would be "no respite and no truce".
On Tuesday, Paris invoked a never-before used European Union article to ask member nations for help in its military missions that received unanimous backing in Brussels.
Defense Minister Jean-Yves Le Drian said the EU support would allow France to have "bilateral talks where necessary" with other EU states to establish what assistance France needed.
Meanwhile Russia finally confirmed Tuesday that the Russian passenger jet that crashed in Egypt last month with the loss of 224 lives had been brought down by a bomb in an attack claimed by IS.
The Kremlin said in a statement following a phone call between Putin and Hollande that they had "agreed to assure closer contact and coordination between the military and security service agencies of the two countries in actions against terrorist groups... in Syria".
Just months ago, Paris and Moscow faced off over the sale of two Mistral warships, which France refused to deliver to Russia over Moscow's backing of separatists in eastern Ukraine -- a charge Russia has always denied.