L' Boreal cruise ship fire to North of the Falkland Islands
Wednesday, November 18th 2015 - 09:18 UTC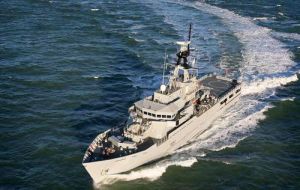 The Falkland Islands Government can confirm that a private cruise vessel has issued a distress call following a fire on-board..
The vessel was bound from Grave Cove to South Georgia with 347 passengers and crew aboard when the alarm was raised at 0201 local time, in the vicinity of Cape Dolphin to the north of the Falkland Islands.
FIG Emergency Services are working swiftly and in close collaboration with local vessel agents and British Forces South Atlantic Islands Emergency Services, and HMS Clyde has changed course in order to aid the evacuation operation.

Further information will be circulated as the situation progresses.
For further information, please contact the PR & Media Office on (500) 27400 or 51771.