Scioli's burden: Kirchnerism and Macri's, his rich family background
Thursday, November 19th 2015 - 07:37 UTC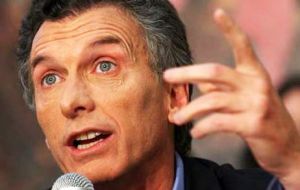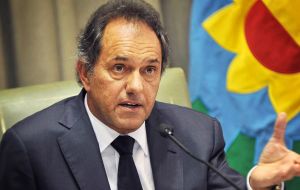 What are the main drawbacks of the Argentine presidential candidates, ahead of 22 November runoff and following their exposure in last Sunday's debate, is the question a Buenos Aires pollster has tried to unveil, and how much could they in effect influence Sunday's vote.
Incumbent candidate Daniel Scioli is accused of heading a scare campaign arguing business friendly Mauricio Macri is synonymous of currency devaluation, inflation, loss of social benefits and surrendering to the litigating speculative or 'vulture' funds.
Macri on the other hand more subtly and less aggressively points out that Scioli represents continuity of current policies and affairs as conducted by President Cristina Fernandez.
Online consultants Opinaia tried to measure the most negative phrases linked to the candidates which emerged during last Sunday's debate and for that they interviewed 1.000 cases with a plus/minus three percentage points margin of error.
According to the results of the online poll one of the issues which most castigates the mayor of Buenos Aires City, Macri is his class origin. Interviews revealed that "32% are convinced that if Macri is elected president he will benefit the rich".
This is so because Macri belongs to one of the wealthiest families in Argentina. Italian immigrants they worked their way up and have interests in manufacturing, real estate, services and finance.
Scioli on the other hand has the burden of his political belonging. In effect 46% are "totally convinced" that if the Buenos Aires province governor is elected he will rule "highly conditioned by Kirchnerism".