Chile's football association chief turns in to US authorities as part of the ongoing FIFA probe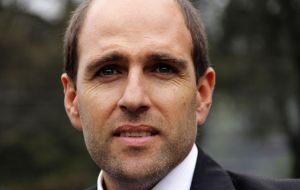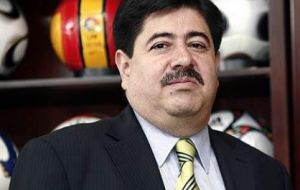 The president of Chile's ANFP national football association Sergio Jadue has gone to the United States to talk to the FBI as part of its ongoing probe into corruption at soccer governing body FIFA, Santiago media reported.
Local police had served Jadue a subpoena last Friday as part of what the ANFP said was an investigation into how it allocates salaries, hours after he announced he would take a 30-day leave for medical reasons.
"The trip is confirmed. He traveled to Miami last night," an ANFP spokesman said without providing details about why Jadue traveled.
"He has a special permission for a 30-day medical leave and he continues to be the ANFP's president."
The spokesman added that the organization would make an official statement later. Santiago media had earlier reported that Jadue had resigned from his role at the head of the ANFP.
Under the flashes of cameras and with police escorts, Jadue boarded a flight in Santiago late on Tuesday night, headed for New York via Miami, said newspaper La Tercera earlier on Wednesday.
South American soccer confederation CONMEBOL and the sport's world governing body FIFA are reeling from a corruption scandal. Several leading directors were indicted in May in a probe led by the U.S. Federal Bureau of Investigation into allegations of bribery, money-laundering and wire fraud.
A majority of the 14 FIFA officials and sports marketing executives indicted by the FBI were from South America.
Local newspapers La Tercera and El Mercurio quoted unnamed ANFP officials as saying that Jadue was planning to collaborate with the FBI investigation.
"It's not a holiday," El Mercurio cited one official as saying. "He is due back May 10 next year. Jadue is traveling as a protected informant of U.S. justice."
In related news, it was announced Luis Bedoya resigned as president of the Colombian Football Federation (FCF) last Monday, citing "reasons of a personal nature" behind his decision.
Bedoya - also a member of FIFA's Executive Committee - leaves his role at a time when world football's governing body is still reeling from the corruption scandal that led to the suspension of president Sepp Blatter and UEFA chief Michel Platini.
Both men deny any wrongdoing, while South American football was dragged into the scandal due to former CONMEBOL members being among a number of FIFA officials past and present indicted on charges of racketeering, conspiracy and corruption.
However, Bedoya, who was in charge of Colombian football since 2006, has not been implicated. In his time at the helm, he has seen Colombia reach the quarterfinal of the World Cup in Brazil last year, while also reaching the last eight of two Copa Americas.