Macri honors 'Pachamama' and Scioli bewares 'the savage capitalism demon' on closing election rallies
Saturday, November 21st 2015 - 08:48 UTC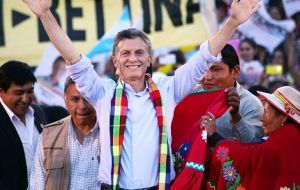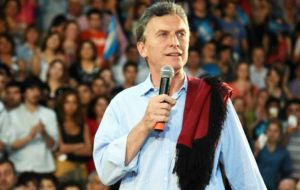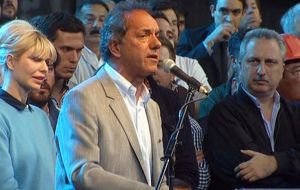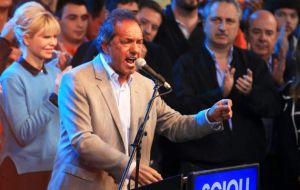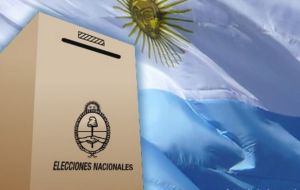 Argentine presidential opposition candidate Mauricio Macri closed his campaign ahead of Sunday 22 November runoff calling for change and unity while the incumbent hopeful Daniel Scioli said the option was between 'a development inclusive project' or the "savage capitalism demon".
Macri chose Humahuaca, an impoverished town in the northern province of Jujuy, neighboring Bolivia, while Scioli attended two rallies in the Buenos Aires province which he has ruled for the last eight years, but which the Victory Front grouping to which he belongs lost last 25 October.
"I want to work every day to help you all live more decently. I'm pledging my utmost, so that Argentines have better opportunities and have better lives", said Macri who in the first round, despite forecasts, managed 34.15% of ballots, and who is now seen as the winner next Sunday according to opinion polls.
At a rally at the foot to Argentina's independence monument in Humahuaca, the eight-year outgoing mayor of Buenos Aires City and head of the "Let's change" alliance said that the "challenge in the coming years" is "to change the life and future of all Argentines".
"We can live better, we deserve better lives" insisted Macri who pledged 'zero poverty', housing credit, improved public education and to fight head on the narcotics trade.
The speech was brief, not more than ten minutes and with a triumphal message, "Argentines have lost too much time in confrontations and the time to build bridges has arrived". He added "I beg you not to fight, not to confront, but to keep all the energy and spirit to build a better Argentina".
"Argentines, we're ready for a marvelous chapter in our history. I want every one of you to go back home knowing that change has arrived, that it's true, the moment is here, that all of us together we're going to build and develop our Argentina. Come on Argentina, Let's change"!!!, concluded Macri.
A few hours before his final speech, Macri attended and participated with members of the indigenous peoples in a ritual offering to Pachamama or 'mother earth', a centuries old tradition when making pledges or asking for support from mother earth.
Macri picked Jujuy for the final rally since a coalition which included the Let's Change, defeated the incumbent governor candidate last October, thus breaking the strong (impoverished) solid north provinces block controlled by the Kirchner political machine and the central government handouts through the so called social programs.
Scioli on the other hand, who managed 37% of the vote in the first round held two final rallies: one of the them in the sea resort city of Mar del Plata, where he insisted that on Sunday people will have to chose between "a people's worker" and a 'conceited' character from a rich neighborhood in the city of Buenos Aires, in reference to his opponent.
Later on Scioli moved to the town of La Matanza, one of the strongholds of Peronism, the hegemonic political organization in Argentina, and again bashed Macri: "the option is between a liberal option, the true expression of that savage capitalism demon" and "a national project which is based on Peronism and brings with it the new times".
"I'm not involved in any scare company. It's the other candidate who's scaring when he says he's going to end subsidies and open the market", underline Scioli before tens of thousands with flags, banners and singing the popular Peronist march.
"We Peronists are the symbol of social justice, we create jobs and we must defend all that has been conquered along these years, while looking ahead to interpret the new demands", insisted the incumbent hopeful.
In the fifteen minutes long speech Scioli strongly condemned statements from Jaime Duran Barba, who is Macri's campaign strategist and quoted saying that "no citizen votes asking the Pope whom he should support", and added that Francis "doesn't change not even ten votes in an election".
"From here, and with great responsibility, I want to repudiate this offensive statement, offensive from any point of view, towards a leader who is admired all over the world", affirmed Scioli recalling that the pontiff called on Argentines "to vote their conscience", without showing any particular inclination for any of the two candidates.
According to Scioli's aides, the candidate picked Mar del Plata for the one of the two last rallies because the resort has been his 'lucky city', both when he was a speedboat racing star, and when he started his political career. La Matanza is the stronghold of Peronism, and managed to contain the historic defeat suffered to Macri's Let's Change grouping and first woman governor, Maria Eugenia Vidal, in the Buenos Aires province.
Under Argentine electoral law, 48 hours before election day, there is a complete ban on campaigning, a reflection period, and a relief from all the propaganda bombardment. Over 32 million Argentines are registered to vote (compulsory) on Sunday's 22 November second round, which could mean the end of Kirchnerism, (at different speeds) no matter which candidate wins, but more specifically if that man is Macri.
If Macri wins as opinion polls indicate, the discrepancy is in the percentage points difference, he would become the first non-Peronist and non-Radical (Argentina's two leading political forces) in reaching Casa Rosada through universal vote. However the statement is relative since Macri has alliances in different provinces with splinter Peronist groups and a formal agreement with the main current in the Radical party, and has been very careful in wooing hard rock Peronists disenchanted with Cristina Fernandez version and interpretation of Argentine history.
Four hours after voting is over on Sunday, at the most, Argentina should know who their next four-year president will be.