Petrobras back to normal activity as splinter union ends 20-day strike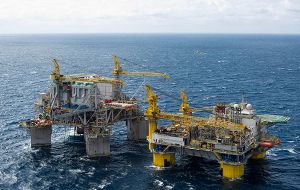 Earlier on Friday a key Petrobras workers union voted to end a 20-day strike that disrupted output. Workers at the Sindipetro Norte Fluminense local, who had ignored the largest oil workers' union FUP's call to end the strike that started on November first, will return to work Friday evening at onshore operations, union spokesman Tezeu Bezerra.
Other workers will start returning to the company's offshore platforms early on Saturday, Bezerra said.
Sindipetro represents workers in the Campos Basin, Brazil's most productive offshore oil region and it had been resisting last weekend's call by the FUP confederation of unions to end the strike.
One of the sticking points for Sindipetro NF had been how much the workers would be paid for their time on strike.
The action, which began on November first, was called to protest austerity measures taken by the debt and scandal ridden Petrobras.
It had been impacting Petrobras' output although the two parties differed in estimates of that impact. The company said daily output was down by 100,000 barrels whereas the union claimed as much as 400,000bpd.