Brazil job losses accelerated during October; 1.4 million in twelve months
Monday, November 23rd 2015 - 08:42 UTC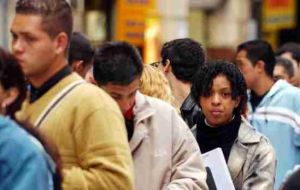 Job losses in Brazil accelerated in October to the fastest pace so far this year as the country's political and economic crisis continues to worsen. Brazil's economy lost a net 169,131 payroll jobs in October, the Labor Ministry reported, up from 95,602 layoffs in September.
Brazilian companies cut staff across business sectors and regions. Manufacturing, construction and services firms laid off nearly 50,000 workers in each sector in October.
Brazil's deep recession has already cost nearly 1.4 million jobs in the past 12 months. Even those who have kept their jobs are feeling insecure about the future, sending consumer confidence measures to successive record lows.
The Brazilian economy is expected to shrink more than 3% this year and 2% in 2016, in what would turn out to be its longest recession since the 1930's.
The crisis, partly caused by market worries due to a political stalemate in Congress, has weighed on President Dilma Rousseff's popularity. Opposition parties have demanded her impeachment just a year after her re-election, as her approval rating plummeted below 10%.
The Northern state of Para, rich in agricultural and mineral commodities, had the steepest month-on-month decline in payroll jobs at 1.15%, labor ministry data showed.
About 95,000 jobs were trimmed in Brazil's most populous region, the southern states of Sao Paulo, Rio de Janeiro and Minas Gerais.