"Change is possible, thanks for believing", president elect Macri´s first words
Monday, November 23rd 2015 - 07:40 UTC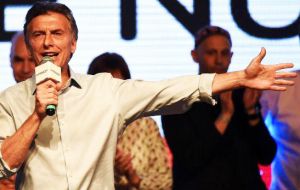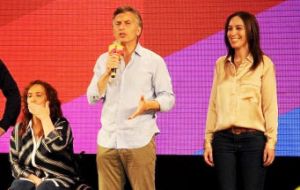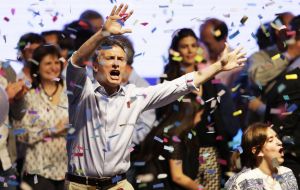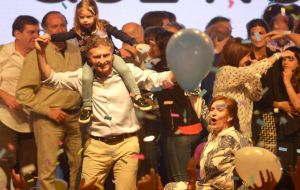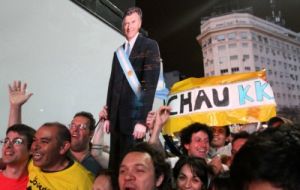 "Change is possible, thanks so much for having believed", were the first words of Argentine president-elect Mauricio Macri when he appeared on stage at his packed headquarters in Buenos Aires, Sunday evening. Visibly emotional and euphoric, Macri said "it is a historic day for Argentina, a change of times. A change that will guide us to the future".
The 56 year old engineer who founded the independent pro business Republican Proposal party, PRO a decade ago and was for two consecutive four-year mandates mayor of Buenos Aires City finally convinced over half of Argentine voters with his slogan "Let's change; change is possible", which was insistently cheered during much of the celebration speech.
The Argentine president who will succeed Cristina Fernandez called on those celebrating and those watching on television to join him in making Argentine dreams and hopes come true. "You voted for me, but I'm only here to help guide, you need to keep supporting me, there are no such things as an illuminated person, there's nobody that's good at all challenges, we must work together, those who voted for me and those who didn't".
He emphasized that "all efforts and vitality must be invested in building Argentina, the Argentina we all dream off. Argentina has no time for reprisals or setting of scores. I call on all of you to join us in this effort of a better Argentina, with no confrontations".
Macri pledged that his main objectives are to reach 'zero poverty', combat the narcotics trade and insecurity and give Argentines, a land of entrepreneurs a chance to build.
"We are all children or grand children of people who crossed the huge ocean, (there were no cellular phones, no internet, no Facebook at the time), and they chose this land to bring up their families and new lives, new businesses, make true their dreams, and they made Argentine great; that is our challenge to make Argentina great again all together, all united".
In a message on foreign affairs, Macri said clearly that his government will be directed to have good relations with all countries.
"To our brothers from the region and the world: we want to have good relations with all countries, we want to work with all countries on a cooperation agenda", underlined the president elect.
Likewise since his coalition "Let's change" has several powerful allies, at the moment of extending gratitude he especially mentioned and embraced Ernesto Sanz, head of the Radical party, and Elisa Carrió, leader of the Civic Coalition: "they showed generosity and we were able to add and add".
Macri then followed with his ticket companion, vice-president Gabriela Michetti. Maria Eugenia Vidal the next governor of Buenos Aires province, a decisive win for the overall victory given the significance of the largest Argentine electoral district and Horacio Rodríguez Larreta who succeeds him as mayor of Buenos Aires City.
Special thanks went to Marcos Peña, the head of his electoral campaign (and most probably future cabinet chief), and his own family, "including my parents for all the opportunities they granted me" and his current wife and future First Lady Juliana Awada and his four children.
Macri also made mention to his nanny, who looked after him since 'he was five and was his father's secretary', whom he invited on stage and kissed her.
"I know most of you wanted a change, but many believed it could not be achieved, but now you can see change is possible, and change is possible with your vote, so Argentines you are already making change happen, forward with a great and united Argentina, the best country in the world", concluded the president elect.
After the speech campaign slogans were played and dancing took off on the stage, with several 'cumbias' of which Macri could be seen is very fond. The celebration also included the children of some of the team among which Macri's youngest daughter, Antonia, who he held in his shoulders.
Outside the "Let's change" coalition supporters celebrated early dawn, next to Buenos Aires City obelisk at one of the world's widest avenues, 9 de Julio. Tens of thousands waved Argentine flags, banners, there was music, singing and dancing. The promise of a change of times seems to have captured public opinion with great enthusiasm and hope.