China prepared to intensify strategic partnership with Argentina
Tuesday, November 24th 2015 - 10:24 UTC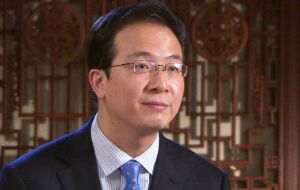 China congratulated Mauricio Macri on Monday for winning Argentina's presidential election and underlined the comprehensive strategic partnership.
"China congratulates Mr. Macri on being elected as the new Argentine president and wishes the Argentine people new achievements in their national development," Chinese Foreign Ministry spokesman Hong Lei said at a regular press briefing.
Argentina is a major Latin American nation and emerging economy. The China-Argentina comprehensive strategic partnership has been developing smoothly in recent years, Hong underlined.
"Beijing will, as always, attach importance and develop bilateral relations from a strategic perspective," Hong added.
The spokesman pointed out that "China would like to deepen political trust and enhance friendly and reciprocal cooperation with Argentina in pursuit of common development of the two countries and benefits of the peoples".
Opposition candidate Macri, of the business friendly Cambiemos (Let's Change) coalition, won Argentina's presidential election on Sunday, marking an end to the left-leaning-populist era of President Cristina Fernandez, who, along with her late husband, Nestor Kirchner, dominated the country's political scene for 12 years.
In the last twelve years China has become Argentina's main trading partner, a significant investor in infrastructure (dams, nuclear plants, ports, military hardware), and last but not least, through swaps, the main source of foreign currency to a dollar-strapped central bank .